Over the last six months, we've been on a mission to reduce the steps and complexity that it takes to set your events live. In December we released enhancements to event cloning and Entry Packages to reduce the number of items you add to your forms.
Last summer we surveyed event organizers about setting up events. We received positive feedback about the flexibility which allows each organization to capture exactly the data they need in the format and structure they need it. But users were also clear that it could be overwhelming and frustrating to get right, especially for newer organizers. With that input as our roadmap, we set out to build an all-new form builder that is just as flexible and powerful when needed but with a simpler user experience all the time.
Today we are excited to launch an all new form builder that further simplifies your registration form. Our team has been building forms using this new form builder for 3 months and we are excited to share it with you.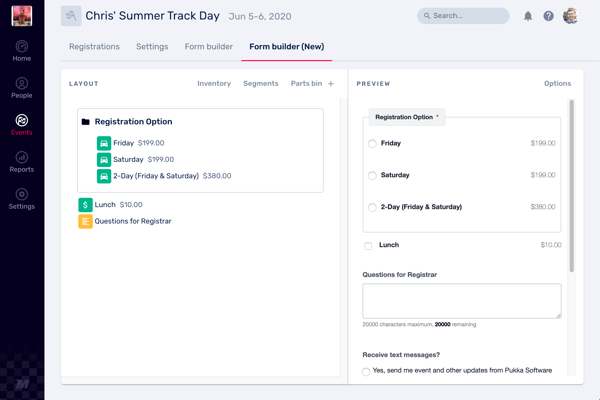 "I just spent some time on the new event form builder. Great job on making it more modern, intuitive, flexible and faster all at the same time! Looking forward to building more HPDE events for SCDA with it!"
–Elivan from Sports Car Driving Association
Better drag & drop
The new form builder introduces a more intuitive drag & drop so you'll know exactly where a part will land on the form when you drop it into the layout. Nesting an item to create "if this, then that" behavior on the form is as simple as dragging it left and right. This also works great on mobile devices like phones and tablets.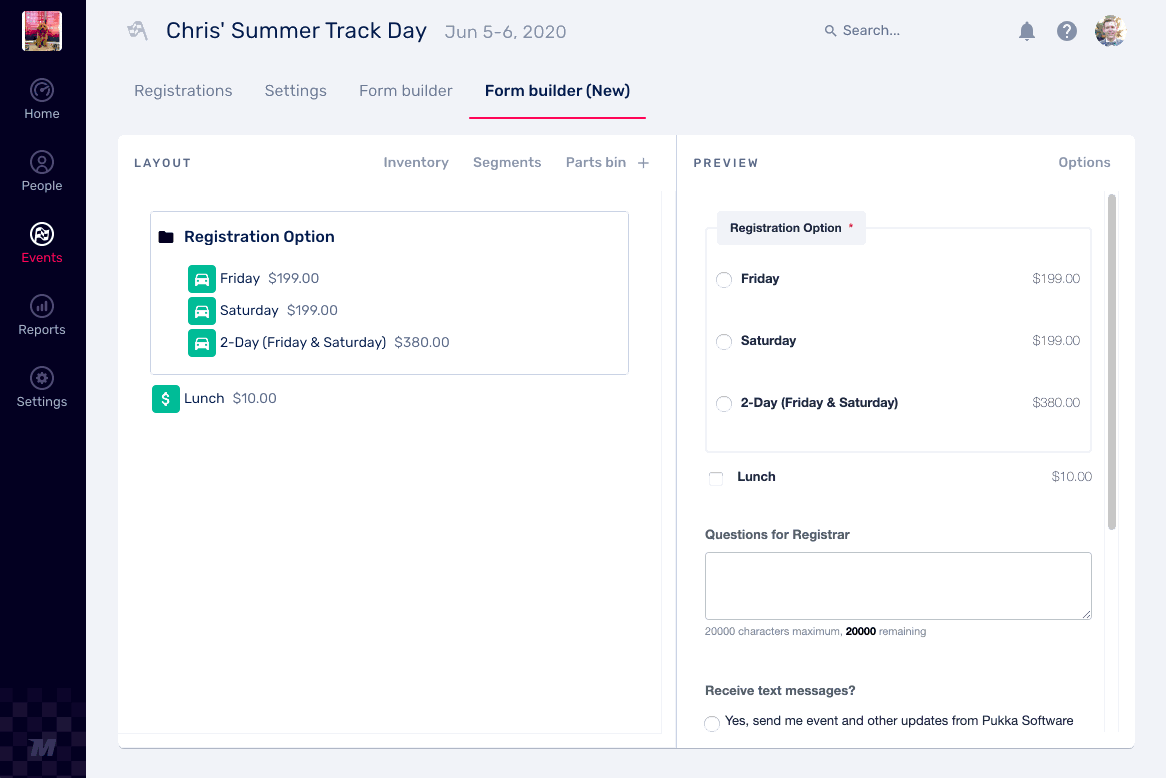 "It's so much easier to arrange parts which is a major improvement. In my opinion, this is the number one thing that will make form building easier."
–Brian Harmer, Solo & Program Manager, SCCA
Manage segments
Create and modify segments from within the form builder. Update available classes, groups, modifiers and mappings without losing your place in the form layout.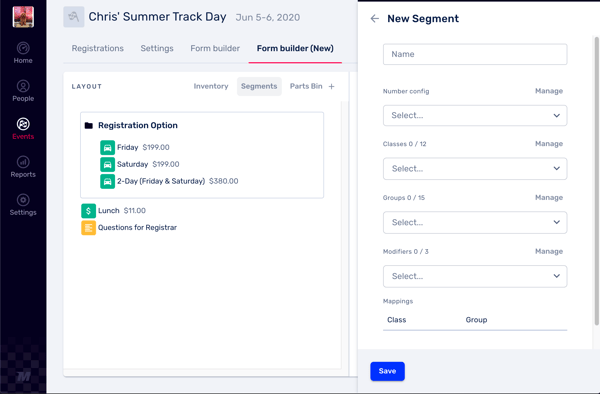 Manage inventory
Inventory takes a front seat giving you an easy way to see how much you've sold and whether you're nearing your limits.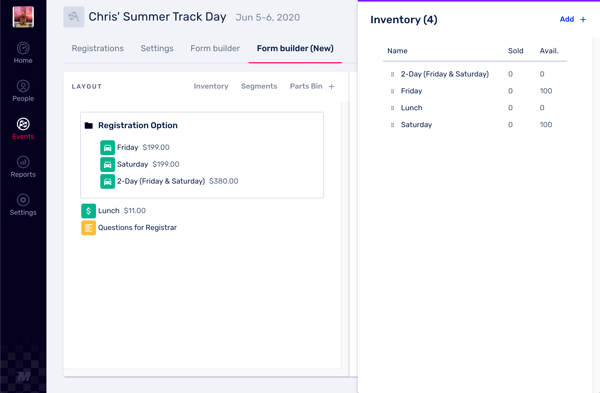 "I really love how the inventory panel is directly accessible without having to first edit a package."
–Tony from Superkarts! USA
Parts Bin
The parts bin has moved to make more room for your form layout. Not to worry, it is always accessible by clicking the "Parts Bin."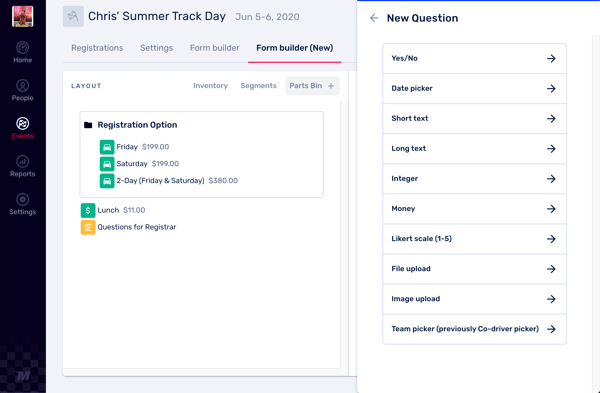 "[The new form builder] feels streamlined, modern, and easy to use. MSR has always been user-friendly, but this is a revolution! I especially like the simplified parts bin with its added options and intuitive design. My next event will be a breeze to create. Thank you MSR!"
– Geoff from Classic Sports Racing Group
Mobile support
Modify your forms on phones and tablets including drag and drop. The user experience was designed to be mobile-first from the beginning - no pinch and zoom required!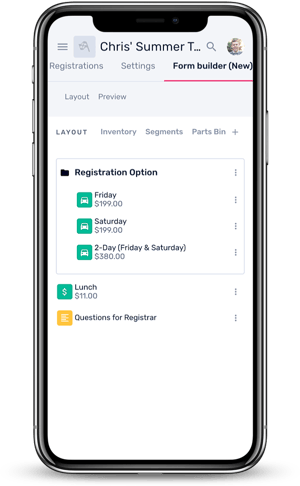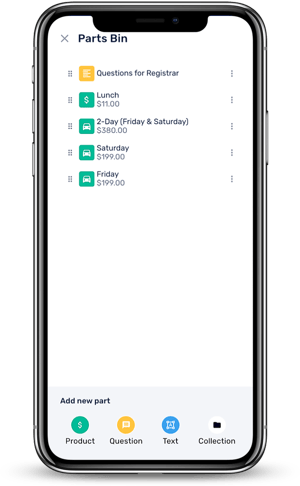 Try it today
Both the classic and new form builders will be available for you to use for now. You'll see a new option "Form Builder (New)" alongside the existing form builder navigation. Any changes you make in the new form builder will be reflected in the classic and vice versa.
Join us for a webinar
If you haven't already registered, please join us for a live webinar tonight at 5pm Pacific / 8pm Eastern for a live demo and Q&A session. If you can't join us, the session will be recorded and posted for viewing at any time.