Volunteers are the unsung heroes of our events. They join us unpaid and at the crack of dawn all for the love of motorsports and this incredible community we're a part of. Let's give a hats off to these wonderful folks and start making their lives (and yours) a little easier with online registration.
Many of our organizers have brought their volunteer programs online and joining us this year with several big volunteer events was Circuit of the Americas. They recently wrapped up their first event for the Lone Star LeMans with over 300 volunteers and are getting ready for this weekend's Formula 1 race. To see how you can use MotorsportReg.com to register your volunteers online, check out how we structured their event below.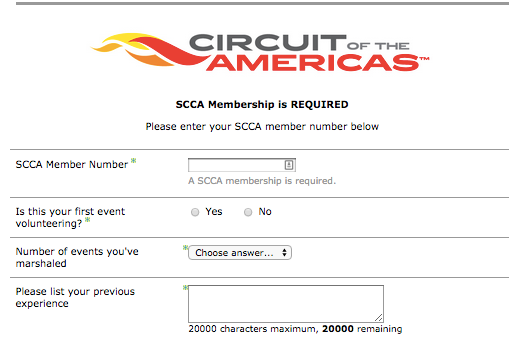 Step 1: At the top of the page we used a text block with COTA's logo to add branding and make the page more inviting.
Step 2: To ensure each marshal had the proper experience, we used event questions to collect the member number and experience level.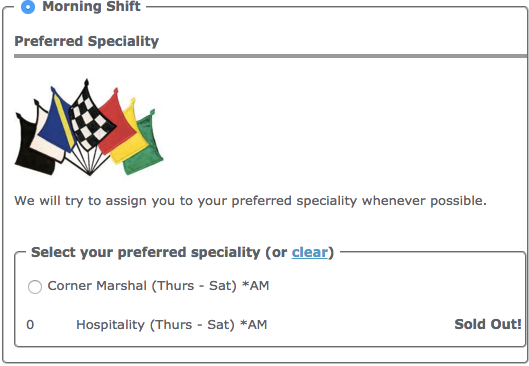 Step 3: Although specialty assignments weren't collected for the F1 race, they can be a huge time-saver for you so we had to show you this section of COTA's Lone Star LeMans form. We used packages to indicate preferred specialty, inventory limits to identify the number of positions available and assigners to map the entries for seamless reporting.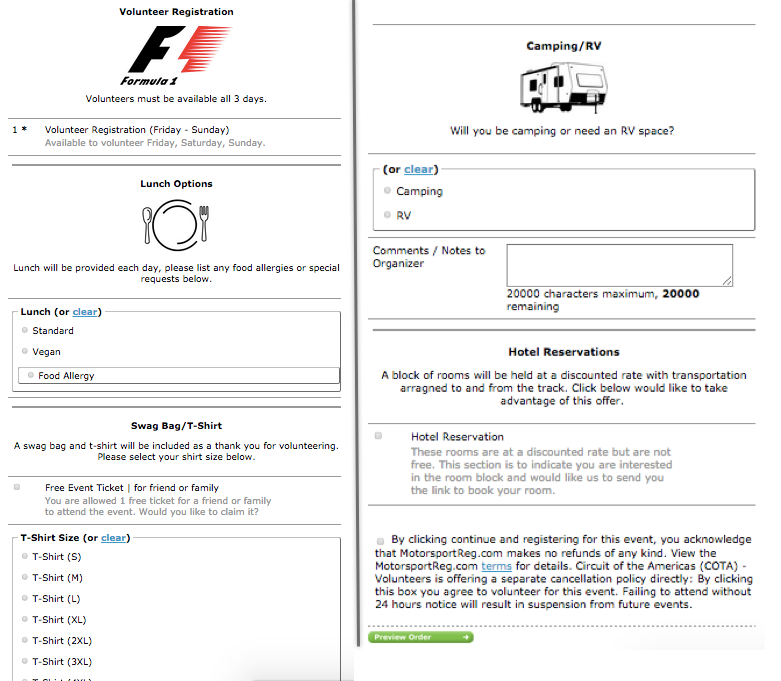 Step 4: Next was lunch preferences, we used packages to select lunch options and an event question to list any food allergies. This makes for just a quick glance at the dashboard to place catering orders -- no more guessing!
Step 5: Can't forget the goodie bags! Tickets and t-shirts were given to volunteers as a thank you. Packages and inventory kept track of sizing for an accurate count when placing orders.
Step 6: Last but not least camping and hotel needs. We used packages here to track if volunteers were staying on site or if they needed a hotel for the event. While COTA only needed to know the type of reservation (camping/hotel), many of our organizers also use classes and numbers to allow volunteers to reserve specific spaces at an event.
And just like that - it's off to the races! Here's what Jeanie Caulfield, Track Operations at COTA had to say:
"MotorsportReg has made our volunteer organization efficient, filled with excellent content and painless! Their support team is happy to help at any time."
Setting up your volunteer program online
There are a few different ways to set up your volunteer program (either combined with a current event or as a standalone event) and we can help you decide which works best for your organization. The amount of information you can collect is almost endless. And by running your volunteer events through our system, you're building your own database of volunteers that you can easily communicate with before, during, and after the event, and to recruit for future events. We have a few tips and tricks up our sleeve to help get you going -- contact us if you'd like a hand getting started!
Workers wanted email list
Lastly, we wanted to throw in a little bonus. Our workers wanted mailing list is currently about 4,300 subscribers strong. If you're ever in a pinch and need a few more helping hands, let us know. And if you're a volunteer and want to be added to the list, sign up under mailing lists in your MotorsportReg account profile. (And don't forget to upload your photo while you're in there!)