Let us help!
Back in 2013 we added a few new additions to our email lists and posted this opt-in box in a few places in MotorsportReg.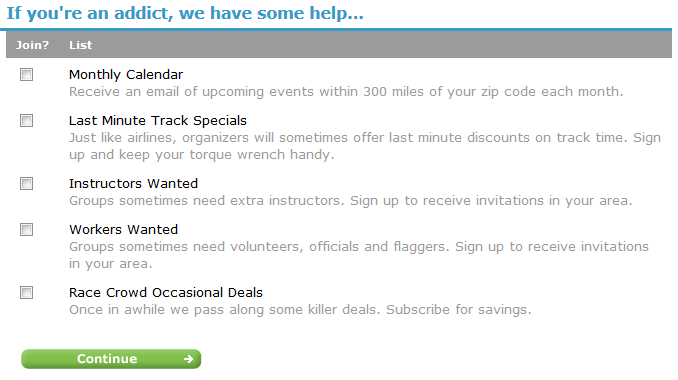 We're using these lists to directly help our organizers and participants. Over the last year these lists have grown like crazy! And more of our organizers are taking advantage of them and seeing great results.
Last minute track specials- 27,000 subscribers!
This list is specifically for attendees looking for a good deal on track time. It can be used by organizers on our Premium plan offering a last minute discount on open track days or HPDEs. We send it to everyone within 300 miles of the venue and generally reach 3,000 to 4,000 people. Below are some of the actual results after sending out an email blast:
22 new drivers- Mazda Raceway Laguna Seca open track day, weekend event.
19 new drivers- Palmer Motorsports Park open track day, weekday event. (We sent out the email only 5 days before the event, and over a third of those new drivers signed up for future events with this organization!)
9 new drivers- Thompson Speedway open track day, weekday event.
7 new drivers- GingerMan Raceway open track day, weekday event.
If you'd like to take advantage of our last minute track specials email list, check out the requirements here and then send us an email.
Workers and Instructors wanted
Currently our instructors wanted list has 4,800 subscribers and our workers wanted list has 4,100 subscribers. We've had a few organizations use these lately, one seeking workers for a club race and two looking for HPDE instructors. A handful of volunteers signed up for each of those events- not too bad given the size of these lists and the nature of the work.
Send us an email If you want to take advantage of one of these lists and sign up yourself if you want to be added to the list.
Monthly calendar listing
If you're listing your events on MotorsportReg, then you are already taking advantage of this huge email list. We're adding a couple thousand subscribers to this list every month and we're up to 35,500! That's free promotion for your events and you don't have to lift a finger.
PS- A few weeks back we got the whole MotorsportReg team together for a week in Wisconsin. And we found a few minutes to take a new group photo- check it out here.