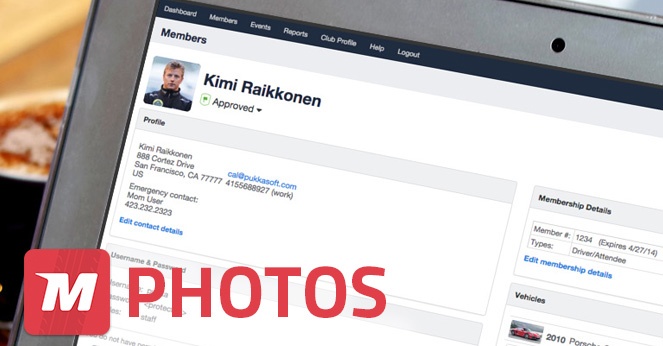 Today we are releasing four major updates that have me super excited. You might remember back in August when we gave you a sneak peak to a major change to the look and feel of MotorsportReg. It's here today, along with much more.
Here's the list:
Profile photos for people and vehicles

Email attachments & file uploads

Modernized administrator design

Season/Series Registration improvements
I've been waiting a long time to bring these to you so let's dig in to each one and tell you how they're going to make your, and your participants, MotorsportReg experience better.
People & Vehicle Profile Photos
What got most of us interested in this sport were the cars, motorcycles, karts or anything with an engine. But when I ask repeat participants why they keep returning, a huge majority say something about the people. Porsche Club of America's captures this directly in their tagline: "Come for the cars, stay for the people".
MotorsportReg has always been about helping grow your participation and, in their own words, a lot of that comes down to the people. Starting today, participants are prompted to upload passport-style photos of themselves and their vehicles to create a more visual, more human connection between your online database and your real-world people.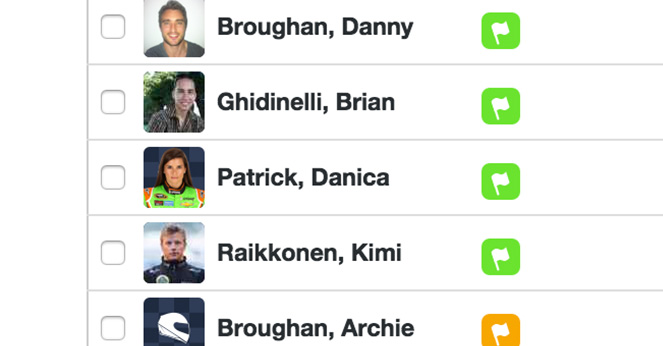 These photos appear throughout the administrative screens. Wherever you see names, you see photos. Where you see year, make and model, you see a picture. If you're great with faces but struggle for names, consider this a major power-up!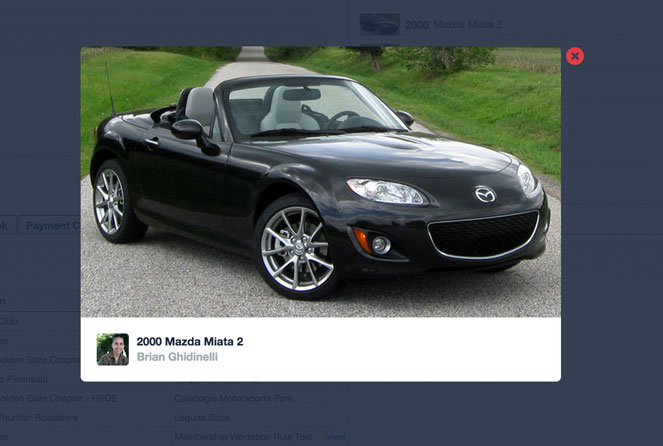 These photos will also appear in attendee lists helping your participants to get to know each other faster and help break down the awkwardness of being the new guy or girl on the scene. Plus, who doesn't like to show off their ride or see what cool hardware will be at the next event? Are you running races? We just created an automatic spotter guide for your officials, crew and spectators!
Email Attachments & File Uploads
We send millions of emails per year on behalf of our clubs, racetracks and sanctioning bodies and perhaps our all-time #1 request is to add attachments to email. The problem is that email attachments negatively impact your inbox deliverability - not all of your recipients receive those documents. Until today, you've had to first upload your files to your website or another document hosting service and copy links into our text editor. Now we have an integrated solution: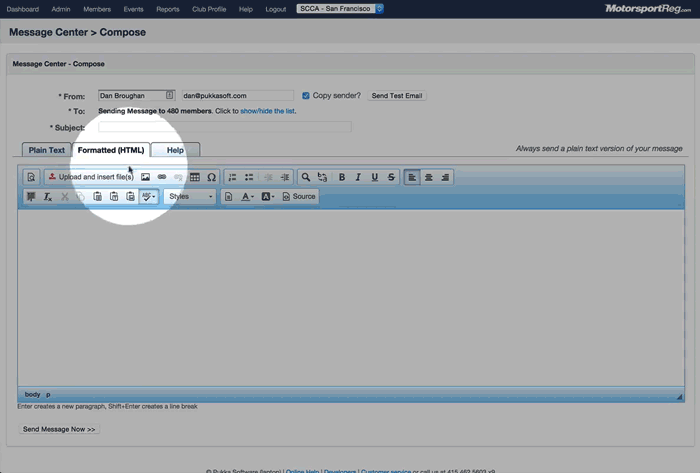 Using our rich text editor, a new Upload button allows you to upload and insert images and files into your emails, text and waiver and attendee lists in one super easy process. We keep a list of your uploaded files so you can reuse them across email campaigns and events, saving you from finding third-party document hosting and allowing you to share the documents with your fellow organizers.
Rather than physically attaching the document to the email, we insert a link which ensures high inbox deliverability to your members and participants. This is great for photos, schedules, tech forms, supplemental regulations or other documents you need to distribute.
Modernized Design
Design fans will have noticed a number of small updates over recent months (as well as some bigger changes in the screenshots above!) We've improved how the administrator and attendee interfaces behave on phones and tablets, created all-new social media hero images and avatars and today we're unveiling a major design update to the tools you use to manage events.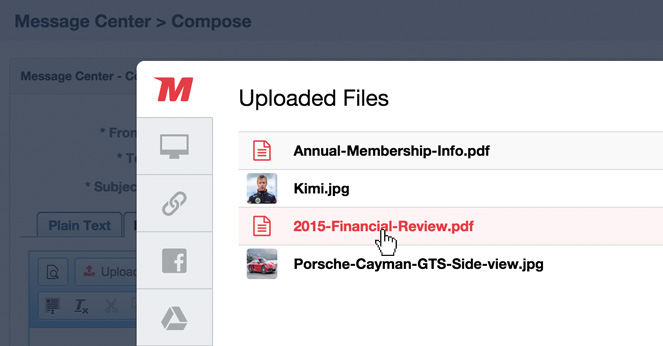 Don't stress! You'll still find everything where it was yesterday, but it will look nicer, flow better and provides a better foundation for more improvements. You'll see a handful of those changes today when you login such as updated registration and profile status icons.
This is the beginning of an exciting new modern look and feel throughout MotorsportReg.
Season/Series Registration
Running a season where attendees can register for all events at once? We have a new feature in private testing that allows attendees to register for an entire season at once or any combination of individual events. Especially valuable for autocross, karting and other race series. If you're interested in trying this for a winter season or your 2016 season, contact us for more information.
Quick Hits
Here are a few more things that have been improved or fixed recently:
When checking in attendees on-site, the "1st" flag is exposed so you can welcome participants new to your organization or offer them additional assistance. Let them know you're happy they came!

When saving general event settings, you're redirected back to the original screen rather than the overview so you can review your updated settings.

Fixed cancellation notices that were not being delivered when your contact had multiple email addresses separated by commas.

Supplement existing download-to-calendar links for Google Calendar, Yahoo Calendar and iCalendar with new links on receipt and dashboard screens.

When elections are locked, we also lock the individual questions to protect the integrity of the choices. Surveys retain the ability to modify settings and questions at any time.
We hope you love these updates as much as we do - please let us know what you think in the comments or by sending us an email.