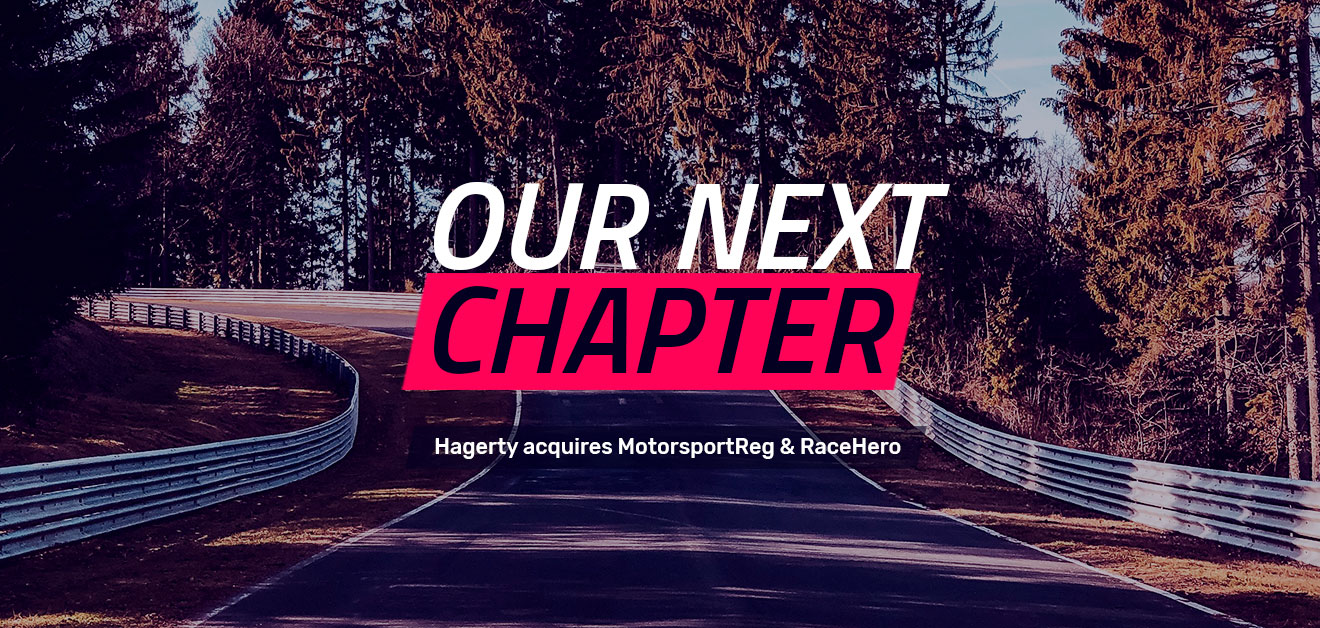 Customers, friends and fellow enthusiasts -
I have big news to share - today we are announcing that Hagerty has acquired MotorsportReg.com and RaceHero. The entire team, including myself, is staying in place and there is no change to our commitment to helping you organize awesome events or protecting your data. What will change is our ability to lean on Hagerty's resources to accelerate everything we do and deliver value to you more quickly in the form of automating tasks, improving accuracy and growing participation.
This is a major milestone for our customers, the team and me personally. It's been 16 years since I built a prototype to solve my own needs as a track day organizer with the Golden Gate Chapter of the BMW CCA.
What began as a hobby (and let's be honest, a tax write-off for my own racing - thanks Dad!) became a 12-person company managing 40,000 events and 2,000,000 registrations for two software-as-a-service apps. We did it without any funding, bootstrapping from revenue and obsessively solving the needs of event organizers. None of that would have been possible without the great team who joined me on this journey starting with Ann Maycock in 2009. Few teams - funded or not - ever achieve this success and I hope they are as proud of themselves as I am of them.
Although bootstrapping has been a wonderful challenge, it also slowed us down. We have been drowning in great opportunities that we simply haven't had the people or hours in the day to tackle. That's what drew my interest when Hagerty called.
While many of you know them for their classic car insurance, Hagerty is really an automotive lifestyle brand that motorsport enthusiasts love too. You can rent a classic or exotic car on their AirBnb-for-cars platform DriveShare. They offer HPDE insurance to protect your car on track. You can learn what a car is worth using their valuation database before buying or selling. You can join the Hagerty Driver's Club which features the world's 3rd largest automotive magazine, roadside assistance with guaranteed flatbed towing, and gearhead-oriented discounts like Griot's Garage and Skip Barber racing schools. Or you can join their online community led by racers-turned-writers from prestigious backgrounds such as Road & Track and Car and Driver magazines.
We didn't know any of those things when Hagerty first approached us. But each conversation kept revealing more opportunities where we had overlapping objectives and unique strengths. Their growth mindset and obsession with customer service convinced us that they were the right partner at the right time who could help us accomplish outcomes we couldn't achieve on our own.
To be clear, we didn't decide to sell. We decided to sell to Hagerty. There's an important difference. Our mission to connect event organizers and participants so they can live out their passion for motorsport fits completely within Hagerty's goal of creating a movement of 6 million enthusiasts by 2025 who will preserve car and motorsport culture for future generations. Unlike previous unsolicited inquiries, Hagerty didn't want to pillage our mailing list or aggregate our payment processing. Their executive team has great admiration for what we've built and want it to expand because people and vehicles coming together at events are the cornerstone of car and motorsport culture.
So, what happens now? It's mostly business-as-usual... with a turbo. Hagerty's 12-person marketing team will begin promoting your events to their audience (which reaches 10x more people!) to generate even more new members and participants. Our support number and email stay the same. Our team will quickly grow to extend our lead on delivering the world's best software and support for clubs, racetracks and sanctioning bodies. I signed a 5-year agreement to be the Managing Director of Hagerty Motorsport and continue obsessively solving your problems.
Back in 2003, I had no expectation this would ever be a business, let alone a business someone else would want to buy. It's incredibly humbling and impossible to sufficiently express my gratitude in a blog post so I hope we will meet at an event in the future. In the meantime, I want to thank every event organizer who has trusted us whether you are the Golden Gate Chapter - still with us 16 years later - or you just signed on last week. Being part of Hagerty uniquely positions us to be your partner in tackling the challenges ahead so you can keep following your passion in all forms of motorsport and have fun doing it.
If you have questions, I am hosting a Facebook Live Ask Me Anything tomorrow, Friday April 5th at 9:00am Pacific time at https://facebook.com/MotorsportReg. I invite you to come chat with me then. Otherwise, you can also contact our team and we will - as always - get you squared away.