A personal goal this year is to improve my communication with what's changed in MotorsportReg. As you may have seen on the blog and on the site, we've added a couple of people to our team which means things will begin changing at a faster (and better) rate. That means I need to tell you more frequently about the changes both obvious and not-so-obvious. Let's catch up with a series of blog posts starting today.
Registration Count on Dashboard

On your organizer dashboard, we show the registrations over time to help correlate entries with promotional activity - things like sending an email blast, posting to Facebook or sharing in a forum. You want to shoot for a high-desert plateau rather than the dreaded "hockey stick" of last minute registrations (hint: deferred payments get people to register on average 7 days sooner). We've revised the chart to better display days where no entries are received (boo!) and added a line that tracks the total number of attendees climbing up and to the right (yay!).
Multi-select in Form Builder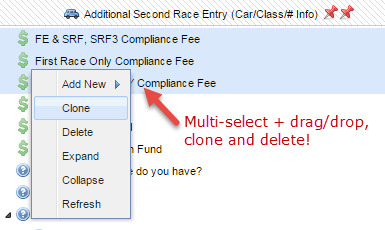 Making lots of changes in the drag-and-drop form builder or building a large form can be a time-consuming task. We've introduced a number of enhancements to help speed up daily usage that we are finding useful and we think you will too:
Select multiple items in the parts bin and drop it into the form
Select multiple items in the parts bin and right-click to clone or delete
Select multiple items in the form layout and right-click to clone or delete
To make multiple selections in the parts bin, hold down the shift or ctrl keys while clicking (or cmd on the Mac). In the form layout, use the ctrl/cmd key to select multiple elements.
Removal of eChecks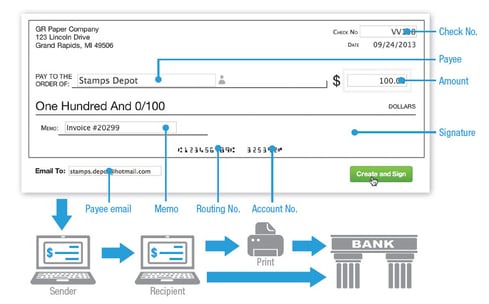 Back in 2004 we introduced the ability to pay by eCheck in the U.S. in addition to major credit and debit cards like Visa, MasterCard and American Express. In 2004 that was a key alternative for people not yet comfortable with entering a credit card number online. Unfortunately over the past decade there has been little adoption of credit card alternatives which has led many check processing providers to exit the market, including the one we use at MotorsportReg.
In January and March we made changes to prevent using eChecks for deferred payments and added a warning to attendees that eChecks may disappear. We've looked for a suitable replacement but consumers' general apathy towards alternative payments and the very small percentage of eCheck users have not made this a pressing concern. Our current provider is shutting down their platform June 30th and we will continue to monitor for alternatives.
Email Blaster for Multiple Events

We talk a lot about promoting events so we've made it easier to reach a wider but targeted audience with our email blaster. Until recently, your choices were "all events" or a single event. There are many situations where you may want to choose an in between selection of events:
Running autocross and HPDE in the same account and wishing to only target people who attended autocross events in the past 12 months
Picking all events at one venue to target a geographic area
Emailing people who attended a particular event, like an instructor training session or a race licensing school, over the past 3 years
Email is your most effective promotional tool. Expect more from us on this to help you grow your lists and use them to fill your events.
Quick Hits
Briefly, here are a few other changes that resolve feature requests or improvements. Most of these requests come directly from you!
Sign in with email address in addition to user name - either one works
Organizer dashboard now features a "Check In" link during your event to help on-site registrars and staff quickly navigate to our check-in tool
The full-page SCCA tech form report has been updated to the 2015 version
"Add To Calendar" links have been improved and restored to private landing pages and the side bar for event pages to help attendees put a calendar on their Google, Apple or other calendar app