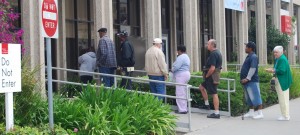 Tired of writing those refund checks? How about dealing with all of the checks and cash you get at your event? We can think of much better things to do than standing in line at the bank! That's why we developed deferred payment processing and why it's one of the most powerful features on MotorsportReg.com.

Deferred payment processing allows you to collect payment information at the time of registration but not charge the account until a later date. It's similar to making a hotel reservation. The attendee puts their card on file and "reserves" a spot at your event. And at the time of your choosing, you charge the card. You can charge the card when confirming a registration, after your cancel cutoff date, the day of the event or even the day after the event. You have 100% control. This feature is part of our Premium Plan.

It is especially attractive to organizations who offer liberal refund policies like programs where any driver who doesn't turn a wheel is entitled to a full refund. With deferred payment processing, you simply don't charge their account, eliminating the need to process refunds.

Attendees love this feature too! For them, there's no penalty for signing up for an event (especially if they have cash flow concerns). And based on our statistics, on average, attendees sign up 7 days earlier for events offering deferred payment processing than not.

So what are you waiting for? Stop standing in line at the bank and start using deferred payment processing!