Record-breaking year sees 207,000 registrations; growing interest in motorsports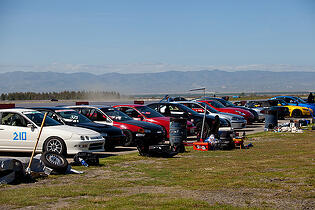 The reports on the death of car culture have been greatly exaggerated. Contrary to studies showing a declining interest in driving, MotorsportReg.com has logged a record 2014, registering more events per participant and setting a new highwater mark of 207,000 amateur motorsport participants, an increase of 15.3% over the prior year.
"While headlines cover struggling spectator events and fewer licensed teen drivers, participatory motorsport events are growing. We've seen a 15.3% year-over-year increase in total participants and a steady increase in the number of events each person attends annually," explained Founder Brian Ghidinelli. "When it comes to getting off the couch and starting the engine, more people are doing it and they're doing it more often. Amateur motorsport as a whole is not only alive but thriving."
GoPro Motorplex President Dan Kraus recapped the year at America's premier karting facility in Mooresville, North Carolina stating, "In addition to our 3, 6 and 9-hour enduros, we sold out three rental leagues for arrive and drive racers using MotorsportReg.com in 2014. We also hosted an 8-race championship series for kart owners that saw over 30% increase in participation giving competitors serious bragging rights for climbing on the top step of the podium. We are eager to see all of our in-house racing series continue this trend in 2015."
MotorsportReg.com brings together 750 clubs, race tracks and sanctioning bodies with hundreds of thousands of enthusiasts in the world's largest motorsport event marketplace. More than 4,000 events on four continents used the software-as-a-service platform in 2014 to process registrations and manage events without the hassle of paper, spreadsheets or long lines.
"Surveys show participation is limited by time, money and competing interests. Free time and disposable income change slowly so the average number of events each person attends annually, which grew 3.7% in 2014, effectively measures where motorsport ranks compared to other pastimes," said Ghidinelli. "MotorsportReg.com helps event organizers build closer relationships with their attendees to grow repeat participation."
Sydney Davis, Director of Events at MSR Houston, a 2.38-mile road course near Angleton, Texas said, "From our summertime 'Red Meat and Race Fuel' afternoon track events to online garage rental and paddock parking reservations, we are constantly experimenting how to keep customers coming back. MotorsportReg.com not only automates processes that we were doing previously by hand, but it helps us stay in touch with our customers so we are delivering what they want from their experience each time they visit the track."
Photo courtesy of Scott L