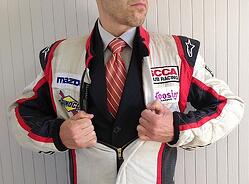 Whether you're trying to getsponsorships for your event, charity or personal racing career, you know that right after you give them your pitch, the first thing out of your potential sponsor's mouth is
"What's in it for me?"
In our upcoming online seminar, Dean Case, Mazda Motorsports Communication Officer, will help you answer that question. He'll give you the inside scoop on how to use the media to provide value to your partners (AKA sponsors) in his presentation- Winning Off the Track.

You'll learn
The role of the media (it is not their job to make you famous)
The difference between a press release and a sponsor update
How to develop a plan to become the local hero
The need for follow-up and why it matters
The value of social media
Details that make the difference
Webinar details
Wednesday, July 30th
Two times-9 am PST/ 12 noon EST and 1:30 pm PST/ 4:30 pm EST
60 minutes including 30 minutes of Q&A
Hosted by Dean Case and Brian Ghidinelli
Space is limited!