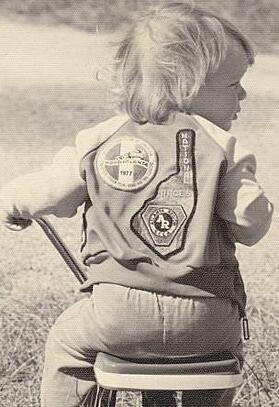 Heyward Wagner was born into an SCCA family. His parents flagged club races and his dad used to autocross. He grew up at Road Atlanta and started working races when he was 18. Leaving the track one afternoon, his Corolla was rear-ended and he replaced it with a 91 Civic Si. A few weeks later he entered an autocross and was hooked. He started competing nationally in 1998, went to the SCCA Solo National Championships for the first time in 2000, and hasn't missed a year since.
In 2004 he started teaching performance driving. First working in corporate programs and then instructing with the Evolution Performance Driving School. In 2010 he joined the SCCA National Solo Staff and in 2012 put all of his experiences together to form the Tire Rack SCCA Starting Line School.
MSR: Tell us a little bit about the Tire Rack SCCA Starting Line School.
Heyward: The Starting Line School is an all-inclusive introduction to performance driving. The package includes a full day of instruction, an SCCA membership, a subscription to Grassroots Motorsports magazine, an Autocross Handbook and entry vouchers for future events. In addition, students have the option to add a helmet to their package. We offer 18 schools, nationwide.
MSR: And what makes the Starting Line School unique from other driving schools?
Heyward: Three things:
Foundation. We offer more than instruction, through the Starting Line program you can get everything you need to get started- instruction, membership, entries, a helmet, and you will meet local event organizers and instructors who can help you continue in the sport.
We offer top level instruction for people brand-new to the sport. Our Instructors are all certified by the Evolution Performance Driving School, widely held as the top autocross school in the country and our curriculum is designed for a true novice. While there is certainly great value in the curriculum for folks who have some autocross experience, this program is designed to start with the fundamental basics and build from there.
We work in your car. Many schools use school cars to introduce driving techniques. While fundamental good habits are transferable, there is a big benefit to getting seat time and familiarity in the car you will be driving in the future.
MSR: What are some of things your organization is really good at?
Heyward: Being invested in our students. Teaching is not easy. Being good at it requires mastery of the subject, the ability to communicate and the willingness to care. I have worked as a part of the Evo team for the last 6 years and time and time again, I see them doing whatever it takes for a student to find success. It is the extra attention and dedication that made it was so important to use these instructors for this program.
MSR: How do you promote your events? How well does it work?
Heyward: We work with Tire Rack to promote events to their customers and we use our own social media and email marketing. It's always challenging to get the word out, even more so when you are looking for folks who have never done what you are doing. Word of mouth is also key. This is why we are interested in getting the word out to current autocrossers and racers. We all get asked, "How can I get involved" and we want "SCCAStartingLine.com" to be the go-to answer to that question.
MSR: What lessons have you learned about running events?
Heyward: Running a successful event, whether it is a school or competitive event, is all about building a quality team and it has to be fun. I am very fortunate to have a strong team of instructors that help put on our schools. Instructing at this level is a lot of fun, but it is not glamorous. We set up courses, tech cars, run check-in, manage the event, instruct and then tear it all down and pack it away. It takes a lot of dedication and it takes more than one person to get it right. The pay off, however, is huge. The students get so much out of these schools, whether it is an introduction to the sport or a refresher to help overcome bad habits, it is extremely rewarding to be a part of the process.
MSR: Why do you keep doing what you're doing? What motivates you?
Heyward: I believe in playing with cars. I think it makes you a better, safer driver. It introduces you to amazing people and it puts huge grins on faces. I am not picky about the cars, I have had just as much fun with a stock 60's VW Bug as I have with a 500+ horsepower supercar (ok, maybe ALMOST as much fun). The problem is there are many barriers. Playing with a car on the street brings unspeakable risk and getting on a track is expensive and often complicated. That's why I love autocross, it's all about access. It's affordable, the risk is extremely minimal and it gives you a foundation in vehicle dynamics and car control that you can build from to enjoy all forms of performance driving.
MSR: How has using MotorsportReg impacted your events?
Heyward: A significant number of our students discovered the Starting Line School because we were listed on MotorsportsReg. It is a great tool to help folks find events and for organizers to get the word out. I love being able to see all my events, and the entry counts on one screen.
MSR: Thanks for your time Heyward and good luck with your schools this year!
Heyward: Thank you!
---

The Tire Rack SCCA Starting Line School is a partnership between the SCCA and Tire Rack to give automotive enthusiasts a professional, all-inclusive entry into the world of performance driving. A Starting Line entry includes:
A full day of professional autocross instruction
1-year SCCA membership and SportsCar magazine
Entry into an SCCA ProSolo, Championship Tour or Match Tour Event
Entry into a host region's autocross
1-year Grassroots Motorsports magazine subscription
The Starting Line Autocross Handbook
A Starting Line hat
Lunch
The option to purchase a Snell-approved helmet
If you're interested in participating, find a school near you. And if your SCCA region is interested in hosting a Tire Rack SCCA Starting Line school, contact Heyward.