It's been quiet on the public front here although we've been working like elves behind-the-scenes to make sure Santa has something in his bag for Christmas. Lots of plumbing work has been performed in preparation for allowing one account to register someone else (an oft-requested feature) and we're staggering our releases to push some of that groundwork early. The big anchor of this upcoming release is customizable member types! No longer will you be restricted to Driver and Instructor; organizations using the premium plan will be able to have up to 32 member types that can track anything from interests to credentials. This feature will greatly enhance our membership management capabilities as well as permit greater tailoring of registration forms for the participants.

[gallery link="file" columns="4"]

Beneath the sheets we've done a major upgrade to the way that we collect, process and store club, event and survey questions. They will all share the same capabilities which means club and event questions will get new likert scales and essay box answer types, regular-expression pattern matching for answers and it has support to limit the visibility of any one of these types to the custom membership types described above.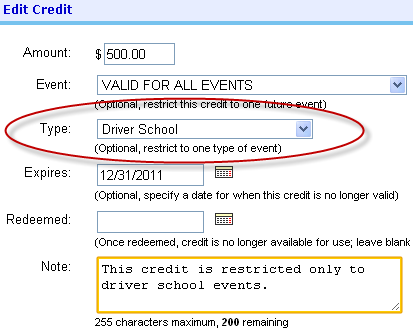 Also coming is the capability to restrict a future credit to one event type. If your organization runs different kinds of events in a single account with MSR, you can now give a participant a credit that will only be good for that same kind of event in the future.

Finally, we added the ability to get a list of postal codes (American and Canadian) within a radius of a specified location via our REST API. You can use this to filter event listings or other geocoded data by distance and we'll be adding more geospatial support to the API in time.

Expect to see the above features live in the next week or so. We'll be updating our documentation accordingly.