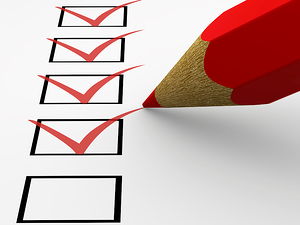 Last fall we surveyed our event organizers on a variety of topics and one of the questions we asked was
"What skills are required in your role as an event organizer?"
Perhaps if you've never been an event organizer you might guess that the answer is "must love cars /motorcycles /karts (fill in the appropriate vehicle)". Turns out that answer didn't come up once.
So what does it take? Below are the top 7 answers from our survey.
1. Organization
If you've only participated in events and never sat on the other side, you'd likely be shocked by the amount of "stuff" that goes into running an event. Trying to organize all the data that just goes into registration was the primary reason why we built MotorsportReg.
One of my favorite quotes from long time customer John Ewald from Audi Club Northwest is comparing event organization to a "3-ring binder-based soul-killing time robber." To be clear he's referring to life before MotorsportReg, but it serves as a great image on just how much goes into these events.
2. Attention to Detail
Now imagine combing through all the details in those 3-ring binders- name, vehicle, run groups, instructors, classes, car numbers, lunch order, t-shirt size, emergency contact, tires, transponder number... and on and on and on. The devil is in the details and you can be sure that if any of those details are slightly off, an attendee is gonna let you know about it. Luckily, MotorsportReg helps improve accuracy and makes it easier to review the nitty gritty.
3. Communication Skills
As an organizer you will answer countless questions before, during and after the event. You will also work with countless people before, during and after the event. And let's not forget about promotion. In order to run a smooth, succesful event, communication is key in all of these situations. And when it comes to safety of the attendees and workers, good communication skills are critical!
4. Computer Skills
Whether you like it or not, everything is computer-based these days. Computer skills was listed over and over again in our survey. Here's a partial list of the computer-based tools organizers said they needed to know- financial software, Facebook, AxWare, Quicken, MotorsportReg, Orbits, Word, Excel, general networking, Microsoft Office, .csv files, PDF reports, social media.
5. Time Management
Organizers spends countless hours ahead of the event preparing. And then it seems like the event comes and goes in the blink of an eye. With limited track time and the desire to give your attendees as much seat time as possible, time management is essential. We created a free Schedule Builder tool to help plan out your event day schedule. Letting your event-day schedule slip can lead to unhappy participants and no one wants that.
6. People Skills
This may be perhaps the most under-rated of skills. As an organizer you're dealing with a lot of people- other organizers, attendees, club management, members, volunteers, track/ venue personnel, sponsors, etc. How you relate to all of these people has a direct effect on how successful you and your event will be. If you're not people-oriented, you might consider a different role.
7. Perseverance/ Patience
I really like this one because it's not that obvious but is very important. And it speaks to how tough this job can be. A few of our oganizers summed it up well, "willingness to do it and stick with it," "patience, patience, patience," and "you need to have ice water in your veins."
That's our top seven, but we have a few honorable mentions that really stood out:
"Understanding what makes people come back and the ability to translate that into components of the event"
"Leadership and vision"
"Someone that wants the club to succeed"
"Selling, salesmanship"
"A big car to haul stuff"
What do you think? Have a skill to add to the list? Share your thoughts in the comments.