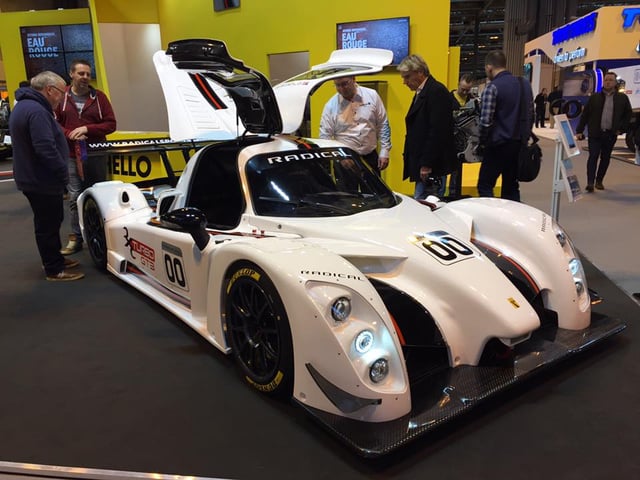 When I started writing this I was somewhere over Newfoundland, Canada returning from the Autosport show in central England. It is the European equivalent of the Performance Racing Industry show in Indianapolis with a more focused road racing theme befitting their heritage. The floor is covered with all kinds of club and pro-level cars and most of the Formula 1 grid is on display. It takes discipline to get work done with so much eye candy!
Many clubs and circuits also have booths to promote their respective programs and racing championships to attract drivers for the upcoming season. I met with organizers to talk about MotorsportReg and RaceHero and I kept hearing a particular word that underscored why we've invested so much effort leading up to this announcement today: family.
Manage your tribe
Everyone reading this blog can attest to how much work it takes to manage your family/tribe- both literally and figuratively. We can't solve all your problems, but with our new features, we're hoping to greatly improve how you "literally" manage your members.
Today we are officially launching our all-new membership, licensing and credentialing system. Designed specifically for the needs of motorsport groups who primarily exist to organize events, we have launched first-class support for everything an organization manages about its members and participants.
Memberships? Check

1-year, 3-year lifetime options at Silver, Gold and Platinum levels? Check

Medicals? Check

Medicals w

hose expiration date varies based upon age? Check

Tech inspections? Check

Instructor certifications? Check

Competition licenses for Rookies, Regional and National? Check

Marshal or worker licenses? Check, check, checkity-check!
Anything an organization issues to members or participants with an expiration date is now natively supported in MotorsportReg. Organizers use events to collect details, charge and process memberships and licenses. Once enabled, a new credentials sidebar appears on the registration and profile screens to review applications before issuing to the participant.
Credential numbers can be manually or automatically assigned, ensuring you never issue a duplicate, and we support a variety of forms ranging from simple sequential numbers to more exotic patterns that include a mix of dates and sequential numbers. It's also easy for one person to buy or apply for a credential on behalf of someone else such as in the case of families or teams.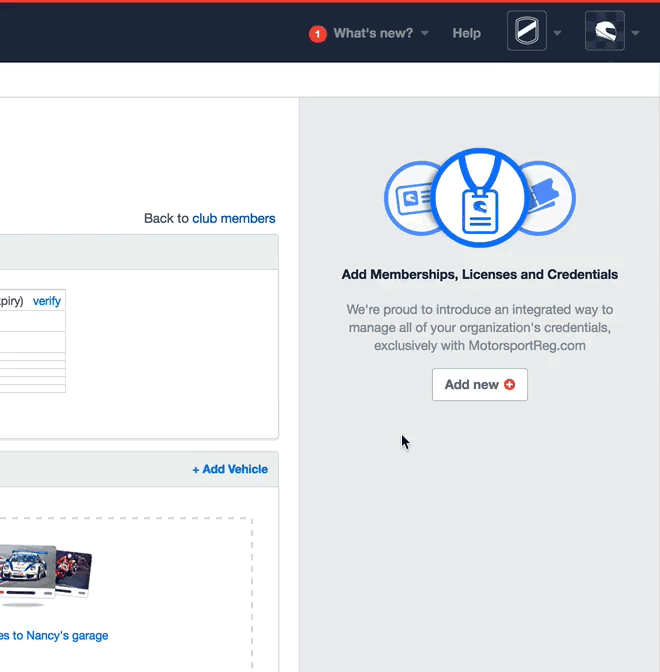 Cross-organizational membership & license verification
Managing memberships and licensing in the same system as your events means full automation, saving your staff time and preventing expired members or racers from sneaking through either intentionally or by accident.
But motorsport has a unique requirement in the amount of cross-organizational collaboration. Have you ever been to a test day and had to present a racing license from any recognized organization? Have you used the medical or license from one sanctioning body to obtain a license with another? Perhaps you belong to a club which has a reciprocal relationship with other local clubs? We built support for these sharing scenarios in from the ground up.
American Motorcyclist Association & MotoAmerica
The American Motorcyclist Association is a 242,000 member group based in Columbus, Ohio. They are the FIM representative in the United States and sanction the MotoAmerica series run by the Krave Group. This is the top level of motorcycle road racing in the United States with 250cc, 600cc and 1000cc sport bikes. Riders become members of the AMA, apply for a road racing license in a particular class and then enter and race in the MotoAmerica series.
When a rider applies for an AMA road racing license on MotorsportReg, first we check their membership status using a custom integration we wrote for the AMA master database in their Columbus, Ohio offices. When AMA staff issue a license to a rider in MotorsportReg, the next step is to enter the MotoAmerica series. Our credentialing system allows MotoAmerica to automatically search the AMA database at the time of registration to validate the rider has a license in good standing according to their rules. MotoAmerica staff can look up the AMA membership and license standing at any time in a read-only capacity to make sure their riders are OK to race.
And as a cool little side project, these new features laid the ground work for a new app we built for MotoAmerica that allows them to issue team credentials for their Superbike Series races.
BMW CCA Club Racing
MotorsportReg became the licensing and registration system for the BMW CCA Club Racing program in 2015. Boasting more than 50 races annually and thousands of licensed racers, they operate in a franchise model where the national organization is responsible for issuing licenses and sanctioning and sending race officials to each event but local chapters promote the individual races and keep the entry fees.
Previously, licenses were managed using a combination of manila folders, 3x5 cards and a spreadsheet with a paper-based application and renewal process. MotorsportReg replaced that with an all-online process and management. Automated expiration reminders reduce staff workload and increase license renewals. With licenses and events managed in MotorsportReg separately by the national office and local chapters respectively, we support optional two-way data flow: individual chapters are able to validate the national-issued license and the national office can aggregate entry data across all of the affiliates needed for race officials and timing and scoring. No spreadsheets mailed around, no phone calls or emails asking if a racer is valid. A forgotten license on race day is now just a couple of clicks to verify. Automatic verification in our online check-in tool will be added in the future.
Motorsport Safety Foundation instructor certification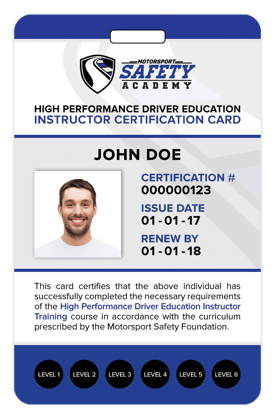 Preparing to launch in February is a track-day instructor certification program from the Motorsport Safety Foundation (MSF). Using our credentialing system, HPDE instructors who pass the MSF certification test will be issued a credential in MotorsportReg. Any club, track or sanctioning body using MotorsportReg may optionally access that certification to either prioritize or block entries by instructors for their events.
We spent an incredible amount of time figuring out how to make these complex relationships work but our credentialing is beautifully simple. If your club has a single membership level and you operate independently, we are a perfect fit for you, too.
What's next?
Hard card printing for licenses and credentials. We expect to partner with third-party providers who can print and mail on your behalf if you don't want to DIY.

Batch editing interface for memberships and licenses, updating reports and adding real-time checks to our on-site check-in tool.
Lots more to come as we help you manage your family. As we free up time, you can focus on growing the tribe instead of just keeping it running.