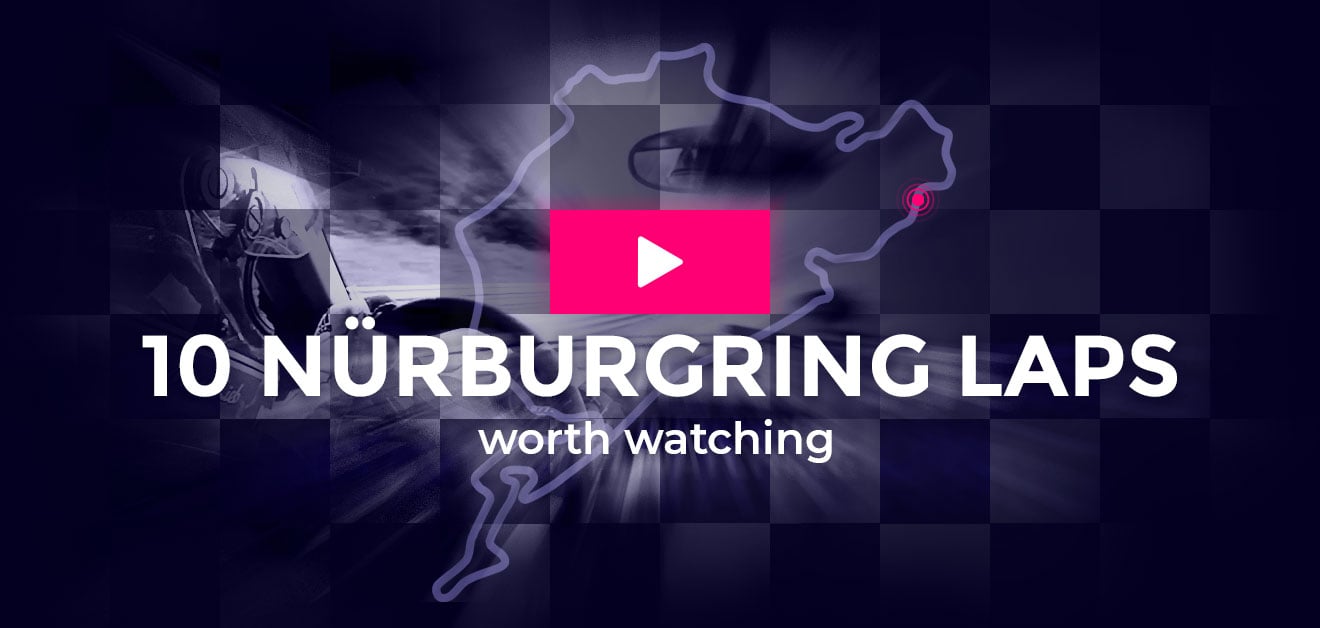 Around headquarters at MotorsportReg, we talk a lot about the Nurburgring. A lot. (We even wrote a book on how to visit, spectate, drive and race the Ring, if you're curious) Whenever a new hot lap is laid down, we immediately share it on Slack and sit tensely on the edge of our chairs watching supercars race flat out in 6th and 7th gears.
We're sharing our favorites (updated from 10 to 12!): a curated list of the fastest laps on the Nurburgring Nordschleife. If you can only watch three, I would recommend the #5 NIO EP9 (electric car!), #1 Porsche 919 Hybrid Evo (Millenium Falcon warpspeed-fast!) and the extra BONUS clip we included at the bottom (oversteer!)
12. Mercedes AMG GT R (7:10.920)
The growl from the 4.0L V8 biturbo is intoxicating and Mercedes doesn't disappoint with the gratuitous pre-hot-lap exhaust close-ups. 577HP doesn't hurt either.
[Ever fantasized about driving the Nurburgring? Download the free Insiders Guide to the Nurburgring.]
11. Dodge Viper ACR-Extreme (7:03.060)
We chose this 7:03 version because of Dominik Farnbachers' penchant for driving one-handed resting his hand on the shifter at 240km/hr... like he's cruising down the 405 in Los Angeles like any real honest-to-god American Viper driver man. If you prefer more hustle, here is a second attempt that clocked at 7:01.
10. Ferrari 599XX (6:58.160)
The Ferrari 599XX was the first "production-derived" sports car to break the 7:00 mark. Compared to the production cars running on high-end street tires, this on-board looks more like running a shifter kart.
[Want to visit Germany and spectate at a track day, RCN time trial or VLN endurance race at the Nurburgring? Download the free Insiders Guide to the Nurburgring.]
9. Porsche 918 Spyder (6:57)
Stefan Bellof's 6:11.13 lap around the Nurburgring in a Porsche 959 stood as the track record for 35 years until Porsche broke it with their Hybrid 919 Evo (see #2 below). But before the LMP1 car rewrote history, the 918 Spyder was the first modern Porsche to lap under 7 minutes.
8. Lamborghini Huracan Performante (6:52.010)
Bringing a 670HP V10 to the Ring gives you the straightline speed you need to lap under 7 minutes but the handling looks pretty good too. See what $400,000 can do in the Eifel forest.
[How about drive in a public Touristfahren or private track day on the Nordschleife? Download the free Insiders Guide to the Nurburgring.]
7. Radical SR8LM (6:48.280)
Radical has always punched above its weight and 2009 was no different. A 455hp Hayabusa motor was fitted to a Le Mans-spec SR8 and helped propel the little car 8 seconds a lap faster than their previous record in 2005. The cars are "completely road legal" for those people who have replaced their internal body organs with jelly.
6. Pagani Zonda R (6:47.500)
The Pagani Zonda R is obviously fast, expensive and rare. And sure, the interior looks like a kit car, but in 2010, it was able to set one of the fastest ever laps around the Nordschleife beating out the Ferrari 599XX.
5. NIO EP9 (6:45.900)
Is this the first electric car attack on the Ring? No, Peugeot drove their EX1 Concept Car to a 9:01.338 back in 2011 and in 2010 a MINI E car logged a 9:51.450. You can't compare those laps to the NIO EP9 because this 6:45 lap shows apexes, guardrail and trees becoming a blur free of the noise that typically signals the approach to 200MPH. You keep expecting DTM driver Peter Dumbreck to lift but instead he just grabs the next gear.
[YOU can drive the Nurburgring! We detail how to rent a car and attend a Nordschleife track day in the free Insiders Guide to the Nurburgring.]
4. Lamborghini Aventador SVJ (6:44.97)
OnOnOThe Aventador SVJ is a 900-unit run of 770hp V12 madness. The Lambo looks like more of a handful than some of its similarly-timed counterparts and - woo boy - does the driver take a lot of curb at Adenauer-Forst! Top speed of this car is a claimed 350km/hr or 217mph.
3. Mercedes-AMG GT Black Series (6:43.616)
OnOnOne of the most striking cars in the GT paddock, the Mercedes-AMG GT Black Series leapt near the top of the all-time fastest lap chart. GT3 racer Maro Engel piloted the car at the absolute limit in a relatively dark early morning run... that also looks damp. Eeeeeek!
2. Manthey Porsche 911 GT2 RS (6:40.300)
Porsche themselves lapped the 911 GT2 RS in an impressive 6:47.250. Still road legal but with aero bits, coilovers and a Nordschleife-specific setup, Manthey Racing knocked another 7 seconds off. The audio is unfortunately no better than the original. It's easy to think you're just watching a casual HPDE track day video but this 3,241lb street car is lapping faster than the 1,433lb Radical SR8LM.
[Where to fly, where to stay, where to watch at the 24 Hours of the Nurburgring is covered in the free Insiders Guide to the Nurburgring.]
1. Porsche 919 Hybrid Evo (5:19.546)
Critics and fans alike long thought that Stefan Bellof's 6:11.13 lap time set in 1983 in a Porsche 956 would never be broken. But then Timo Bernhard and the time attack version of the LMP1-based Porsche 919 Hybrid Evo showed up in 2018 and destroyed it by 51.58 seconds.
This lap feels like a video game. You'll want to watch it at least twice to admire what modern race technology can accomplish when not held back by rules, parity or Balance of Performance (BoP).
And before you forget about Bellof, remember his 1983 lap was set during a qualifying session for the Nurburgring 1000km. In other words, he had traffic. Much respect to Bellof and much respect to Porsche for 35 years of attacking the Nordschleife.
[If this makes you dream about racing at the Nurburgring, our free guide tells you how to get your FIA racing license and DMSB Nordschleife Permit. Download the Insiders Guide to the Nurburgring.]
BONUS: RUF CTR
It's not the fastest, it's not the first, but it might be one that you always remember! The RUF CTR - no helmet, no HANS, no gloves... but plenty of blisters from 13 miles of 24/7 oversteer!
[In the free Insiders Guide to the Nurburgring, Ring experts tell you the right way to prepare using in-car video, sim racing and more.]
For more laptimes and references, check out WikiPedia's "List of Nurburgring Nordschleife Lap Times"