For those of you who can't wait to get to the good part, watch this video.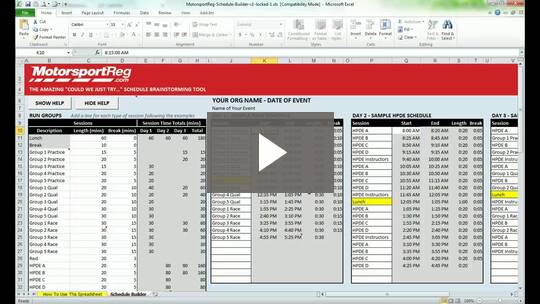 For the rest of you, here's some background.
Last year around this time Brian and I attended the SCCA NorPac Divisional convention in Reno and met with the Regional Executive for the San Francisco Region (SFR) SCCA, Mike Smith. We chatted about the challenges of filling events even though SFR has a strong racing program. How do they compete for weekends with family, friends, sports, hobbies, vacation, and all the other things that participants are involved in?
Sound familiar?
Mike wanted to see if he could fit more racing into less time, by compressing a three-day event into two and eliminating the need to take a day off work for his racers and workers. Pretty thoughtful stuff! But he was having a really hard time building an event schedule to accommodate the extra races in order to test his theory. He knew we had some Excel prowess between us and asked if we could build a template for him. His three main challenges were:
It took forever to do the schedule
It was easy to make time calculation mistakes
It was just too time consuming to do "what if" versions to see how they might work out

What we came up with solved all three of Mike's issues and he LOVED it to put it mildly. The tool became so useful to Mike that we knew our other event organizers would love it too. We dubbed it the Event Schedule Builder and now we're ready to share it with you FOR FREE!
For those of you who waited, you can now go back and watch the video on how easy it is to use the Schedule Builder.
We're pretty proud of it. Grab yours below and tell us what you think!