Attendee List Optimized for Mobile
Hot on the heels of our redesigned Event Advertisement page is an overhaul to one of our most frequently visited pages, the Attendee List.
We sought to address two pain points on the page visuals. Mobile phone usage of MotorsportReg.com has skyrocketed, and we frequently heard the previous design was difficult to use on smaller screens. On older devices or slower mobile networks, larger listings were not loading as quickly as we wanted. We've addressed both. Take a look here: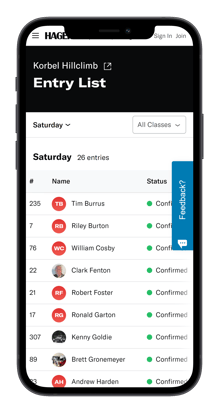 In addition to visual updates, we've gone a step further, swapping out the engine powering the listing page. This sets the stage for more improvements as we look for help from you to make these pages even more powerful.
Please help us make it even better
These pages are used in a variety of ways before, during and after events. We are considering additional sorting and filtering options, but first we want to hear from you! We've placed a feedback button on the page, please let us know if you have ideas on how to make this even more useful to you.