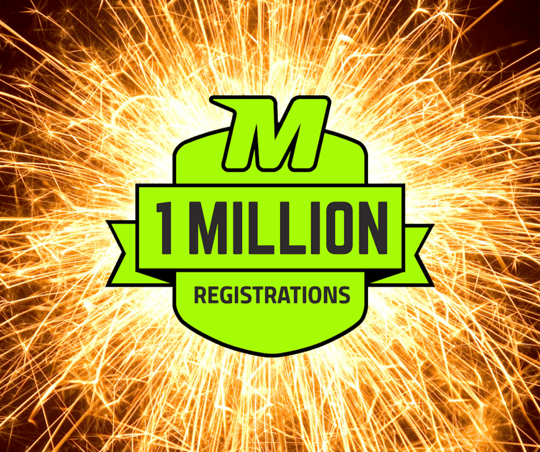 Pass me the champagne! This is like winning LeMans, the Indy 500, the Monaco Grand Prix and Daytona 500!
Okay maybe that's getting a little carried away, but we are super excited over here.
We started out with 1 registration for one driving school. Now we've got 222,831 driver school registrations under our belt plus 777,169 more for everything from club races to karting and motorcycle schools to rallies.
It takes a lot of clubs, a lot of events, a lot of organizers and a TON of participants to hit that number and we thank each and every one of you 1 million times over.
Below is the press release we issued this morning announcing our major milestone. Now on to the next million...
MOTORSPORTREG.COM PASSES 1 MILLION REGISTRATIONS
Serving a global community of motorsport event organizers and participants
MotorsportReg announced today that motorsport clubs, race tracks and sanctioning bodies across North America have registered over 1 million participants using the event registration service. This milestone demonstrates the strength of the amateur motorsport market and the adoption of technology made for enthusiasts by enthusiasts.
"I love motorsport and I want it to be sustainable," said Founder Brian Ghidinelli, "That means it has to be easy to get involved and I'm incredibly proud that we've played a role in that one million times. We've experienced tremendous growth in the number of organizations managing events on MotorsportReg and we're already flat out towards the second million."
In 2002 MotorsportReg set out to reduce the pain of paper entry forms and checks for a single club. The online system helps organizers automate tasks, improve accuracy and grow participation making it easier and more fun to get involved. Paul Conquest of Track Junkies in Alberta, Canada mentions, "Just thinking about the efficiencies of MotorsportReg, it saves me between 25 to 30 hours per event by collecting registrations while I work elsewhere, and makes it possible for me to get ready for an event in just a few hours."
More than 1.1 million people searched MotorsportReg in 2014 making it the world's largest motorsport event marketplace connecting enthusiasts with available events. "When we were having trouble filling one of our events, we used MotorsportReg's promotional tools and increased attendance by 25% in the final five days before our event," explains David Connelly of Northeast Track Days, "All of those participants were new to our organization and many have already signed up for additional events this season."
About MotorsportReg.com: MotorsportReg.com is the best place to organize, find and attend events. Highly customizable event management software provides organizers with motorsport-specific tools to automate tasks, improve accuracy and increase participation backed by world-class support. MotorsportReg.com is used by clubs, race tracks and sanctioning bodies including Circuit of the Americas, Sports Car Club of America (SCCA), Tire Rack® Street Survival and BMW Car Club of America (BMW CCA).
---
We're updating all of our social media artwork to coincide with this announcement. Big thanks to Curt Smith from PCA Northwest Region for allowing us to use his beautiful images. Check them out on Facebook, Twitter and LinkedIn.