As a member of the Hagerty MotorsportReg Customer Success team, I have the sincere pleasure of working with so many of you, our customers, on a daily basis. If you've ever written in to our support box, there is a good chance we've worked together to troubleshoot one thing or another. I have nothing but respect and admiration for everything our event organizers do to facilitate outstanding events for their attendees, and I'm honored to help wherever and whenever I can.
Communicating with so many of you daily also gives me some unique perspective into questions that are commonly asked at a given time about a specific feature, update, process, etc. Our team was discussing this recently, and thought it presented an opportunity for us to connect with all of you on a more regular basis to provide you with some additional insights into whatever topic seems to be hot in our organizer support box at the moment.
This week, it's the admin navigation and the default setting change for many of you from something that looks like this:
...to something that looks like this:
Now, let's get to some of those questions about the change.
"Hey MSR - where did the old navigation go?!"
As mentioned, if you're a longtime user of MSR who has signed in recently you've likely noticed that the default navigation has changed from what we refer to as "classic" to the new interface. For those of you that have used the classic nav for years, this may have been a bit of a surprise, but we assure you it's well intentioned. The new organizer navigation interface has been available for a few years now, offers features that the classic nav does not, and should be considerably more user friendly once you get comfortable with it. At some point it needed to become the default, and that time is now.
"Okay....but why encourage me to make the switch if I'm comfortable in classic?"
Good question, and we get it. There is something to be said for the comforts of the familiar. The reason we're encouraging all users to make the change is that classic nav will no longer be serviced/supported/updated by our development team moving forward. Trying to configure new product features to function in both navigation interfaces more than doubles the workload for our small but mighty development team. As we continue to develop and release new features, we want all of our customers to experience the benefits as the majority of these features come from your requests. While classic nav will remain available for now, it will not receive any more new feature updates.
"The new nav looks different, and I'm not sure where everything I used in classic is located. Why would I make the switch?" might be your next question.
Hey, it's a legitimate question and we understand that change can be hard. Try to think of classic nav as an old habit that needs updating in order to experience improvement (remember back in the day when you had that death grip on the wheel, for example?). Getting used to new nav may seem a little uncomfortable at first, but with a little practice it won't be long before you forget all about classic nav and start to recognize an improved and smoother experience. Hello, accelerator!
The most important thing to know with the new nav is that the buttons contained in the vertical navy blue menu on the left side of your screen contain your organizational settings. When you are in a specific event, all of the horizontal menu button settings at the top of your screen under the event's name are to access your event-specific settings.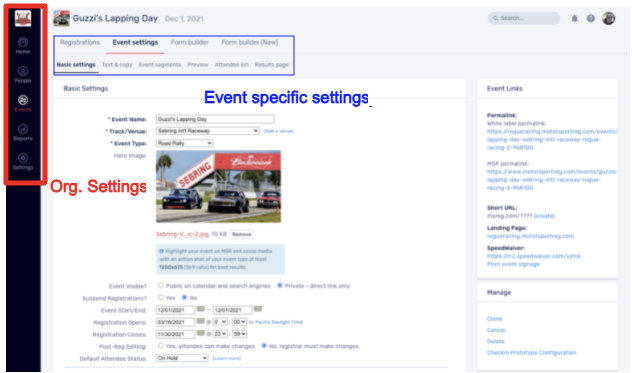 All of the functionality that you've come to know and love in classic nav will be still largely be found in the new nav - plus some additional features with even more to come. Give it a try if you haven't already. With a little time, we bet you'll be really enjoy it!
"Ok, but if I get stuck and I really need to get back - how do I get there?"
We certainly don't want to see you struggle in any way, so if you're in a crunch you can still access classic nav. From your dashboard, in the upper right-hand corner, click on the helmet icon and then the "Switch to Classic Navigation" link.

Just be sure to keep coming back to the new nav - eventually your grip, like that on the wheel, will loosen and you'll be up to speed with the next evolution of MSR.
And of course if you have any questions along the way, don't ever hesitate to sent them to me and my friends on the support team at support@motorsportreg.com.