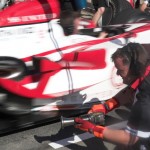 Q: Our club has a new treasurer. How do we update that information in MotorsportReg.com?
A: We give you control of your club's information so that you can change it as needed. You can update the Treasurer contact information by going to Club Profile >> Club & Contact Information >> Treasurer email. Input the correct email address and then select Update Club.
You can also add them to the payments email notifications by going to Club Profile >> Account Options >> Email Notifications >> On Payment and then enter the Treasurer's email address.