Information is key
Each host organization that uses MotorsportReg.com for event registrations, online payments, and management, relies on certain information to be maintained and updated by the attendee. This information is used in the organizer's event reports, and more importantly, can mean the difference between a pleasant registration experience, or one marred by error messages or denied payments.
Update Your Information
There are two types of information that all MotorsportReg.com users should keep up to date.
Personal and emergency contact information
Organization-specific information
Keeping this information accurate and current will reduce the likelihood of blockages and frustration when trying to register for an event. This is especially important now that most of the major national organization regions are using our automated member verification service (including SCCA, PCA, BMW CCA, MBCA and Audi Club).
Personal and Emergency Contact Info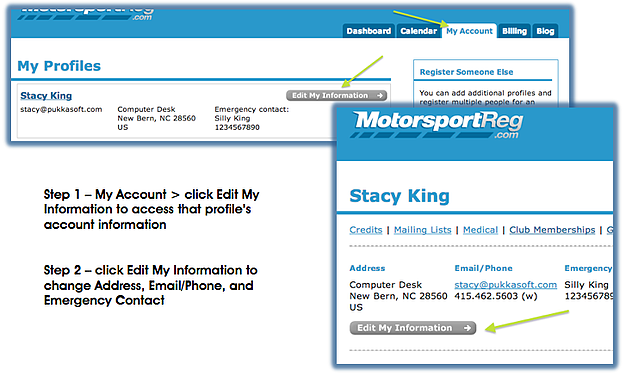 This information, including your name, address, email, phone numbers, and emergency contact, is used by all organizations within MotorsportReg.com. However, each organization uses other information that is typically organization specific (like membership numbers).
Organization Specific Info
Whenever a user adds a club or organization to their membership list, or registers for an event for the first time with an organization, they are asked these organization-specific questions. By default, MotorsportReg.com asks for a membership number, and for some national organizations, a region or chapter. In addition to that, organizations can create custom questions.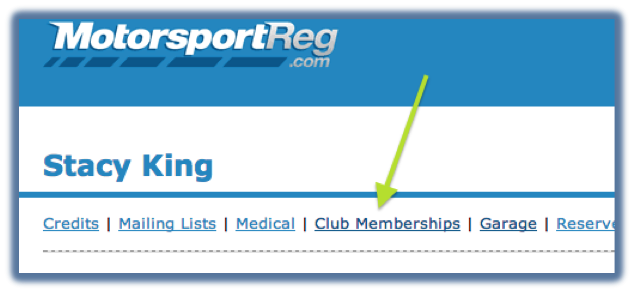 For organization specific information users should:
Go to the My Account tab.
Click the Edit My Information button from the user profile in question.
Select the Club Memberships navigation link (or simply scroll down to the Club Memberships section).
Click the Edit Clubs button.
Select the corresponding Edit link for any club that needs updating.
Click the Save Memberships button (this is also where you can remove clubs from your list by clicking the Delete This Membership link).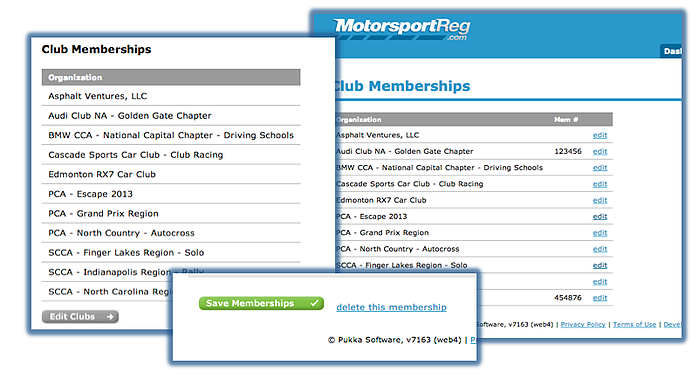 Membership Verification

Maintaining current information allows host organizations to contact you when needed; before, during, and after an event. With more clubs now using our automated membership verification system during their event registrations, you may have difficulty registering for an event if your information is out-of-date.
The most common membership verification hiccups occur when:
Name is in the wrong order (Last, First instead of First, Last)
Nicknames used instead of full names
Incorrect postal code
Incorrect membership number
So if you're having problems with the membership verification part of the registration form, check these 4 items first!
Don't let outdated information stand in the way of having fun! Update your information today!