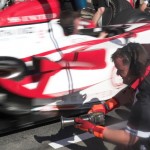 Assigners (also known as the little blue car) are a useful tool on any registration form. Due to their flexibility, determining when to use them and what information to collect can be confusing. Not using them correctly can generate phone calls from attendees wondering why their name isn't appearing on the Attendee List even though they thought they had successfully completed registration.

Q: Do I need an assigner on my registration form?


a) Yes
b) Almost always
c) If you want to collect entry information like vehicle, like class, group, number
d) It can't hurt
e) All of the above

The answer is e) all of the above. When in doubt, use an assigner.

An Assigner performs an extremely valuable function -– it determines what data to collect about an attendee's registration. At a minimum, it captures the attendee's name. For competitive events it can also collect the attendee's vehicle, number, class, PAX/modifier, group, instructor, as well as indicating which segment the assignment should be put into.

The information collected in the Assigner can then be displayed on the public Attendee List. Many attendee's check this list as a means of verifying that their registration was successfully completed. So, even if you are holding a social event and don't need to capture any information about the vehicle they are driving, you will still want to use an Assigner on the registration form so that registrant's names will display on the Attendee List.

BONUS: If you are running a competitive event and collecting the class, etc., the information collected in the Assigner will also show up on reports and the Assignments Lists.