Following any event, one of the most important things to do as an event organizer is collect feedback from your attendees to learn about their experience, needs and expectations. Post event surveys will provide your team with actionable insights which can be used to create strategies for future event improvements and ensure continued success.
To get the highest survey participation rates, we recommend sending surveys to your participants within 48 hours of the end of your event, while the experience is still fresh in their minds.
The survey tool in MotorsportReg can help you get the data you need to make decisions and make every event better than the last. The survey tool is simple to use and more accurate than a crystal ball!
Benefits
Quick and easy to use -- just create your questions and send the link to your participants

Easy and free to distribute using our built-in email blaster

Flexible -- use a variety of question formats to get the granularity of data you need to plan your next event or next season of events.

Displays real-time results online and allows you to export them to Excel.
Question Formats and Examples
Yes/No

"Did you get enough seat time?"

"Would you recommend this event to a friend?"

Integer

"How many runs per event should we offer?"

Date

"What is your preferred date for the spring event?"

Text

"How can we improve this event in the future?"

"Why did you choose to participate in this particular event?"
Text with a fixed answer list

"How can we improve this event?"

more seat time

decrease instructor to student ratio

add one more day

Essay

"What were your goals for this course, and were they met?"

Likert Scale

"Using the scale below, how well did this event meet your expectations?"
(Feel free to check out our sample survey to see the various question formats.)
Survey Set-up Tips
The most important information collected from post event surveys is whether attendees found value in the event, whether it was worth their investment of time and resources, and whether they would participate in the event again. Because these questions are so important, ask them early in the survey.

Begin with the end in mind. Think of what you will do with the data you collect when you are formulating your survey questions.

Keep it simple. If it takes too long or covers too many topics, attendees will lose interest and completion rates will drop.
How to Create a Survey
From your admin dashboard, select "Settings" from the blue menu on the left side of the screen.

Click "Surveys & Elections"

Click "Add new survey"

Name your survey and adjust options according to your preferences.

Use the "Add a Question" button to build your survey.

Save your survey.

Copy the link to your survey from the "Direct Link" on the right side of the screen.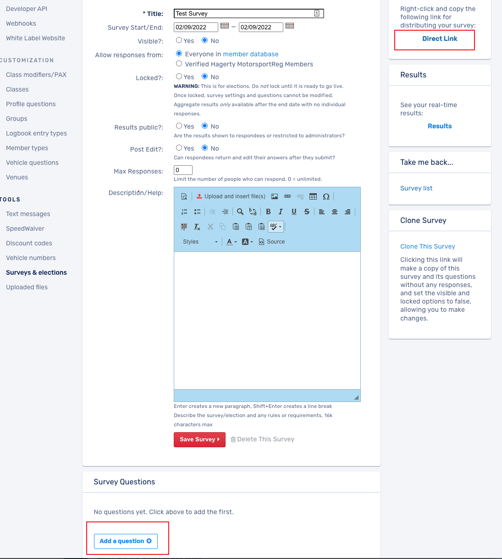 Email your survey link to your event participants via the MSR email blaster and watch the feedback come rolling in! All of your survey feedback can be accessed by selecting "results"
Need additional support with surveys or anything else in MSR? We're always here for you - just drop us a note at support@motorsportreg.com