We've got one!
Offer gift certificates that can be redeemed for your events.
We frequently receive requests for gift certificates from people who want a sure-fire holiday or birthday gift. So we've made it simple for you to sell gift certificates through MotorsportReg.com that can be redeemed for any of your events listed on our calendar.
All you have to do is create a new event , use the Gift Certificate template and then fill in the blanks. We even have a sample gift certificate template for you to download, personalize and send.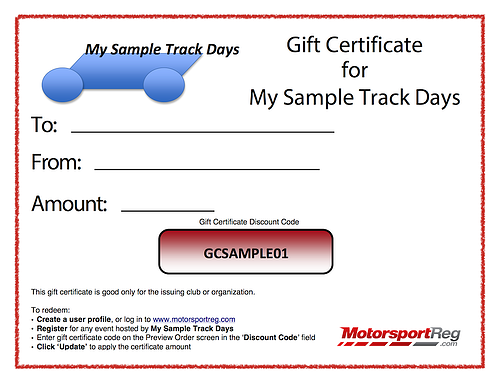 Nitty Gritty
Gift certificates can be purchased in any amount.
You can specify a minimum and maximum amount.
You create a discount code that the recipient enters at the time of registration.
The gift certificate can be redeemed for any type of event that your organization offers - autocross/ solo, driver's education/ schools, tours/ concours, club race, track day, etc.
Spread the Word
The gift certificate event will have it's own direct link that you can send to everyone in your member database using our built-in email blaster. And of course, emails can easily be forwarded to loved ones who need some suggestions on possible gift ideas ...
Make it easy, make it fun -- make it the best holiday ever for your participants by offering gift certificates to your events..