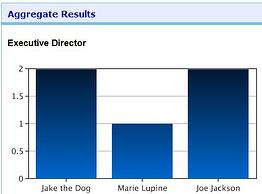 Does running your annual election take a lot of effort? It doesn't have to.
Say goodbye to the snail mail ballots and data entry and use our automated Elections tool. This easy to-use-feature is free to our Premium-plan customers. The setup is simple and since many of your members already have accounts with us, it'll be easy for them to cast their vote.
Here are just a few of the benefits of running automated elections:
Accurate – eliminate data entry errors
Timely – automatic tabulation; know your results the minute the election closes
Anonymous – results can be viewed in aggregate, but individual votes remain private
Cost-Effective – eliminates printing and postage expense (one organization saved $3,000 in their first year!)
Controlled Access – optionally verifies memberships if you only want to allow current members to vote
Multi-Purpose – collects member email addresses for results dissemination (or other important organizational information) using the built-in email blaster
Constructing and promoting an election on MSR utilizes simple tools you're familiar with from creating events – questions and text boxes. And we can handle a variety of voting scenarios.
For example, you can have one question that allows members to select just one candidate for the Executive Director position and one that allows them to choose up to 3 candidates for the Board of Directors.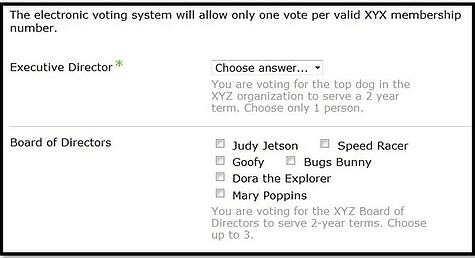 You can find step-by-step instructions in our online Help as well as some suggested best practices. We even have a sample election available for your reference. And of course, you can always call our customer support line if you have questions or need help getting started.