INTERVIEW WITH BRIAN GHIDINELLI (MOTORSPORTREG.COM)

MotorsportReg.com is an online registration management tool for driving and social events.

I interviewed Brian Ghidinelli, MotorsportReg.com founder to find out more. This interview is the hundred and seventh in a series of DW interviews. Big thank you to Brian for the interview!

How would you describe MotorsportReg.com in under 50 words?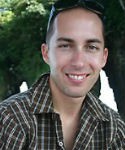 We make it easier and more fun to organize and attend motorsport and automotive events. Organizers around the country take online registrations, manage participants and streamline their workflow. Attendees find new events, get registered quickly and have great experiences with their friends and cars without all the red tape.

Describe yourself in one sentence.

I have three passions in life: driving racecars, travel and being an entrepreneur.

Where are you based?

Across the Golden Gate Bridge from San Francisco and 15 minutes from one of the most famous racetracks in America, Sears Point/Infineon Raceway.

After college you started, ran and sold an internet consultancy and today run your second start-up, Pukka Software, which developed MotorsportReg.com. What were the main influences that led you to startup?

It's a combination of a strong work ethic and DIY influence growing up. My father was a partner in an accounting firm and was "the boss". When I was seven years old, I had my own construction company of Tonka trucks building a subdivision in the garden. In the 6th grade, I bought candy in bulk and resold it at school for a crazy margin. I started a lawn-mowing and yard maintenance business in high school, ran a modem-based bulletin board system and organized an International digital art group. When I got to college, I used my credit card terminal to charge cash-strapped students to get into our house parties. I've always had a little hustle in me.

See the complete interview.