Attendee: Hi, my name is Jim Wilk…
Registration volunteer: Wilkerson, James … you're registered for two days of HPDE as well as time trials for Saturday only right?
Attendee: Um, well… yeah, that's me!
Registration volunteer: Great, glad you made it here safely! I see that you're all paid up, just sign the waiver and you're good to go to head on over to tech.
Attendee: That's it? But I just got here! I was expecting a small social while everyone waited in line to get checked in. Now I can relax a bit… you guys are the BEST!

Wouldn't that be nice? Well… it IS when you use MotorsportReg.com's Check-in feature!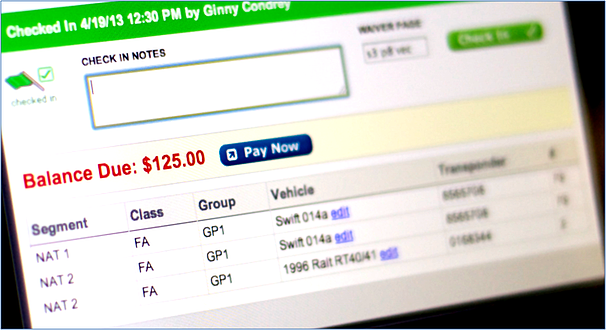 Built in to our premium plan accounts for organizers, this tool gives your registration team a quick and easy online, real-time check-in process. Combined with online payments, it makes checking in your attendees as easy and quick as a couple of mouse clicks.

No more multiple attendee list printouts, no more manually searching down a list of names and trying to figure out if they are paid, no more trying to keep track of check-in notes… it's all at your fingertips. In fact, it's at everyone's fingertips! The check-in tool allows you to have multiple check-in screens open at the same time to allow for different check-in lines.

The simple layout of the check-in box lets you easily see the most important data:


What the attendee is registered for (segment, class, group)
Vehicle info, transponder number, and car number
The check-in notes field lets you enter any additional pertinent information (crew members, notes about changes, personal info to update, etc.) And online payments are a snap with the 'Pay Now' button right from the check-in box.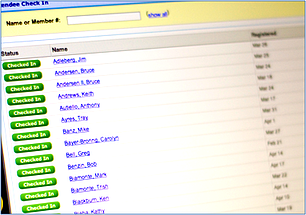 Whether you want to go paperless for the environment, or because you simply don't want to cart 57 file boxes back and forth to every event… get started with online check-in powered by MotorsportReg.com.

Click here for more details on this premium-plan feature.