It's Friday and I thought I'd share a fun story to keep you entertained while you're waiting for happy hour to start...
A few weeks ago, an opportunity arose to participate in one of the very popular racing series where teams compete in "cheap" cars in long endurance races on proper road courses.
Now... as an avid track day and time trial participant, and event organizer, I've always been a little skeptical about the concept of allowing drivers with little to no racing experience (and in some cases, little to no track experience) to go racing in questionable cars.
But the more I saw my friends say over and over how much fun they have, and how real the racing actually is, and that I saw them actually competing for wins in these races... I grew a little jealous. So when this opportunity came, and a number of things aligned that allowed me the time, funds, and permission to do it, I jumped at it full bore.
This was an event of "firsts" for me:
First time racing wheel to wheel (except for some karting here and there and iRacing)
First time running without required passing signals or zones
First time running for longer than 30 or 40 minutes (our stints were a full 2 hours each)
First time in a front wheel drive car on track for any length of time
First time in this particular car
First time wearing a head & neck restraint
First time at VIR without the Oak Tree!!
So, it's safe to say that my own expectations of how I'd "do" out there were... realistic at best. But not without pressure... see, this particular team has been competing in this series for a few years now, and is consistently in the top 10, and usually in the top 5 if not in contention for the outright win or a podium. In fact, they won this particular event in 2013.
And, it was raining.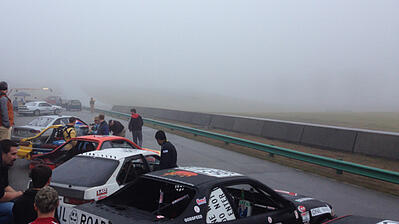 Watching the first four stints from the pits, I was a lot more relaxed than I thought I would be. Especially considering we were in the top three (usually in 1st or 2nd) most of the day. So it would be my job to not screw things up and set up the team owner to bring it home during the 6th and final stint. Yeah, no pressure!
Did I mention it was raining? From the sidelines, it didn't seem too bad, but from inside the car, it felt like a monsoon (turns out my stint was one of the wetter ones). The car did great, I was a LOT more aggressive than I thought I'd ever be out there. I had my share of offs, like most everyone else, but kept it going and didn't hit anything. My 2 hours went by pretty quick. After pitting, and after the next round of pit stops for other cars, we were in third place. So I was pleased, and my teammates seemed happy to still be in contention.
The conditions for this race couldn't have been much worse, with the exception of thunder & lightning, or snow. So I was expecting some major carnage out there... but I didn't see it. I was overall really impressed with the driving I saw from the sidelines, and from inside the car. Believe it or not, we only had one full course caution during the entire 12 hours of racing that day. That's a testament not only to the drivers, but also the event crew and track staff.
We ended up finishing in 3rd place out of around 75 cars (on a 1.6 mile circuit!) and I enjoyed every minute of it. Hoping to do it again very soon... this time, maybe on a dry track!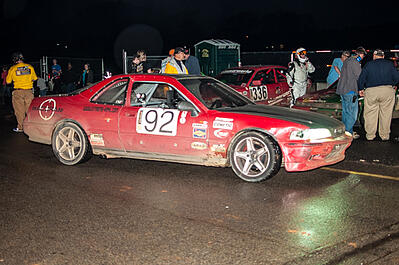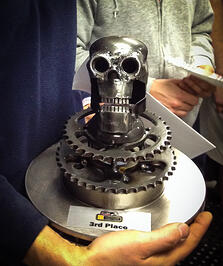 Even though I've had my doubts about the premise of the "cheap car" racing series, I have always understood the draw of the fun and accessibility factor for those of us who will never have the time, nor resources to own/build/race our own car. So it's endurance racing series like these that afford us the opportunity to be part of a team, and experience the very real racing experience that it has to offer.
Oh yeah, and I am now able to say: "I beat Randy Pobst!"