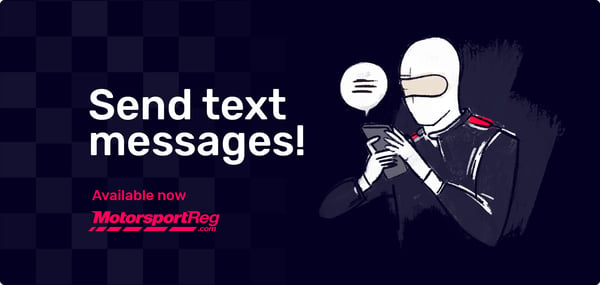 We've all been there – walking around the paddock and you hear the faint sound of a voice reverberating over the PA system. Just as you hear the first few words, someone fires up an engine erasing any chance you had at hearing that important announcement.
Or even worse, as an event organizer, you are trying to inform people about a schedule change or invite people to stay for the evening social and nobody can hear you.
Today we're announcing one of our most requested features – the ability to send text messages directly to your attendees mobile phones.
If you need a fast, reliable way to reach your participants, SMS is it. Dynmark reports that 90% of text messages are read within 3 minutes of receipt. You'll be surprised how easy it is to send a message to some or all of your attendees. Simply select the people you want to reach and select "Send text message."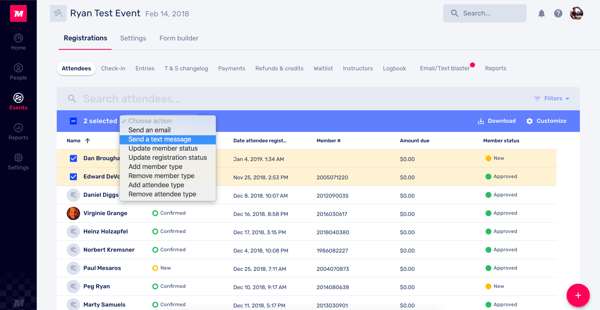 You can also send messages just like you do today with Email Blaster.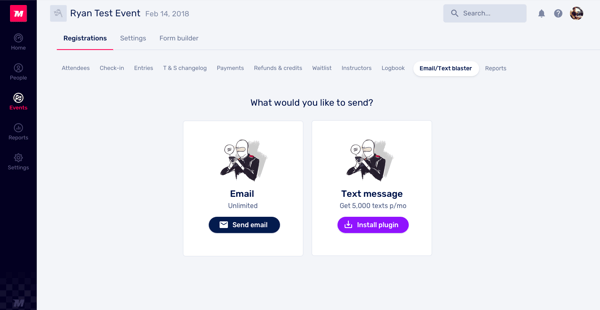 Sending text messages to your attendees is not limited to event-day messages. You can also use text messages to send out important details before or after an event like a special discount offer to drive more registrations, last-minute schedule changes, or when registration opens for your next event.
Availability
This feature will roll out in the coming weeks. Our team is wrapping up the development and testing.
Pricing
Text Message Blaster is a premium add-on. You'll buy a starter package which gives you a unique phone number for your organization, the ability to send messages, and 3,000 message credits to get you started for 12 months. No monthly recurring fees.
Need more than 3,000 messages for the year? You can buy more message credits to use anytime in the year.
Special Introductory Offer
We are offering discounted introductory pricing through May 1st for your first year of messaging.
Starter package – $49
Includes 3,000 messages
3,000 additional messages – $39
9,000 additional messages – $99
25,000 additional messages – $249
Want to take advantage of this introductory pricing? You can pre-purchase here and be the first to use the all-new Text Message Blaster on release day.