To all the organizations who trust MotorsportReg, you just hit a major milestone years in the making: we processed your 2 millionth event registration! This milestone is no small feat. Two million participants have lived out their passion for motorsport through an event that you've organized. We congratulate you on your contribution to the sport and for creating a place for all of us to get our adrenaline fix and create lifelong friendships.
What's next? Together we're partnering on a mission to accelerate the growth of the motorsport events community. Leveraging our tools, you've registered record numbers of people for motorsport events this year. Six highlights worth sharing:
Your events reached more than 1,000,000 web visitors on the MotorsportReg calendar and 1,300,000 inboxes via our monthly "Upcoming Events" emails.

You brought back 10% more people to your registration form using our abandoned registration emails that detect when someone leaves the registration form.
You filled over $100,000 of unsold seats using our Last Minute Track Junkies list, growing your contact list and keeping your events financially in the black.
You added 115,000 new names when people opt-in to your contact database before they view your registration forms.
You sent your members and customers 5,000,000 emails keeping them up to date and encouraging them to register for your events. Five million touch points!
All combined, our tools with your passion have increased average participation! The number of events attended per person per year has grown annually by 2.6%. Each of your average participants are attending 13% more of your events today than 5 years ago.
These are just a few of the ways that we support you in your mission to grow the motorsport events community. Our team is constantly finding new ways to automate tasks, reduce errors, and increase participation in your events. These tenets are at the core of every new feature we deliver and we're excited to see what you accomplish next!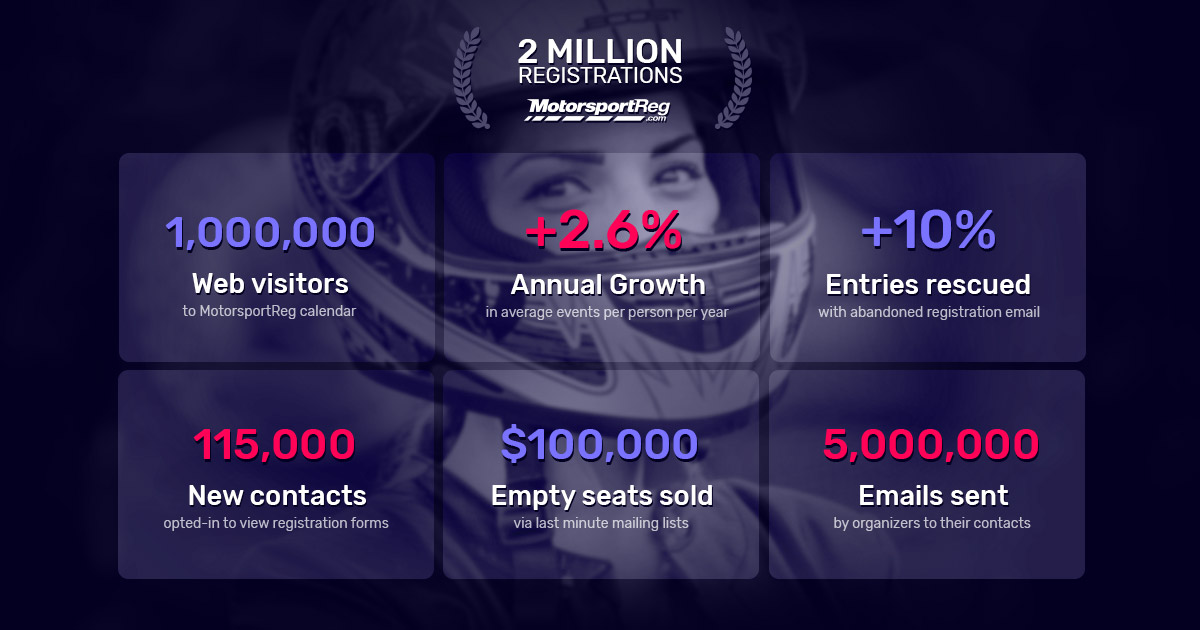 .