As the world begins to emerge from COVID-19 lockdowns, people are asking how they can return to their normal lives including hobby activities. We believe you should follow all applicable government rules but also exercise personal caution. We all love the cars, motorcycles and karts that attracted us to motorsport but the people are why we stick around.
To help you put their health and safety first, we have created and collected recommendations and guidelines on running events between now as restrictions are lifted and when a vaccine is widely distributed.
COVID Resources
We contributed to an industry coalition to create the Safe To Race guidelines. Our resources page also aggregates recommendations from other organizations to help you put your best, and safest, foot forward plus a crowd-sourced spreadsheet of current venue/track operating status and estimated reopening dates:
COVID-Friendly Event Ideas
We hosted a live webinar on this topic with the Porsche Club of America on April 30th. See the recording and transcript for a more detailed discussion plus Q&A.
The current situation is dramatically changing the way we all live, and that certainly applies to the motorsport community and the enjoyment of our hobby. For much of the nation, shelter-in-place restrictions mean that enthusiasts must be content to polish their vehicles' chrome or tackle that project they have been avoiding. However, since we don't know how long restrictions may last, it's still important to keep in touch with your members. Here are a few fun ways to connect while we have to remain at home and leave our cars parked in our garages.
Here are 5 event ideas to stay connected to your audience throughout the pandemic. Let us know what you think in the comments!
Put Some Zoom In Zoom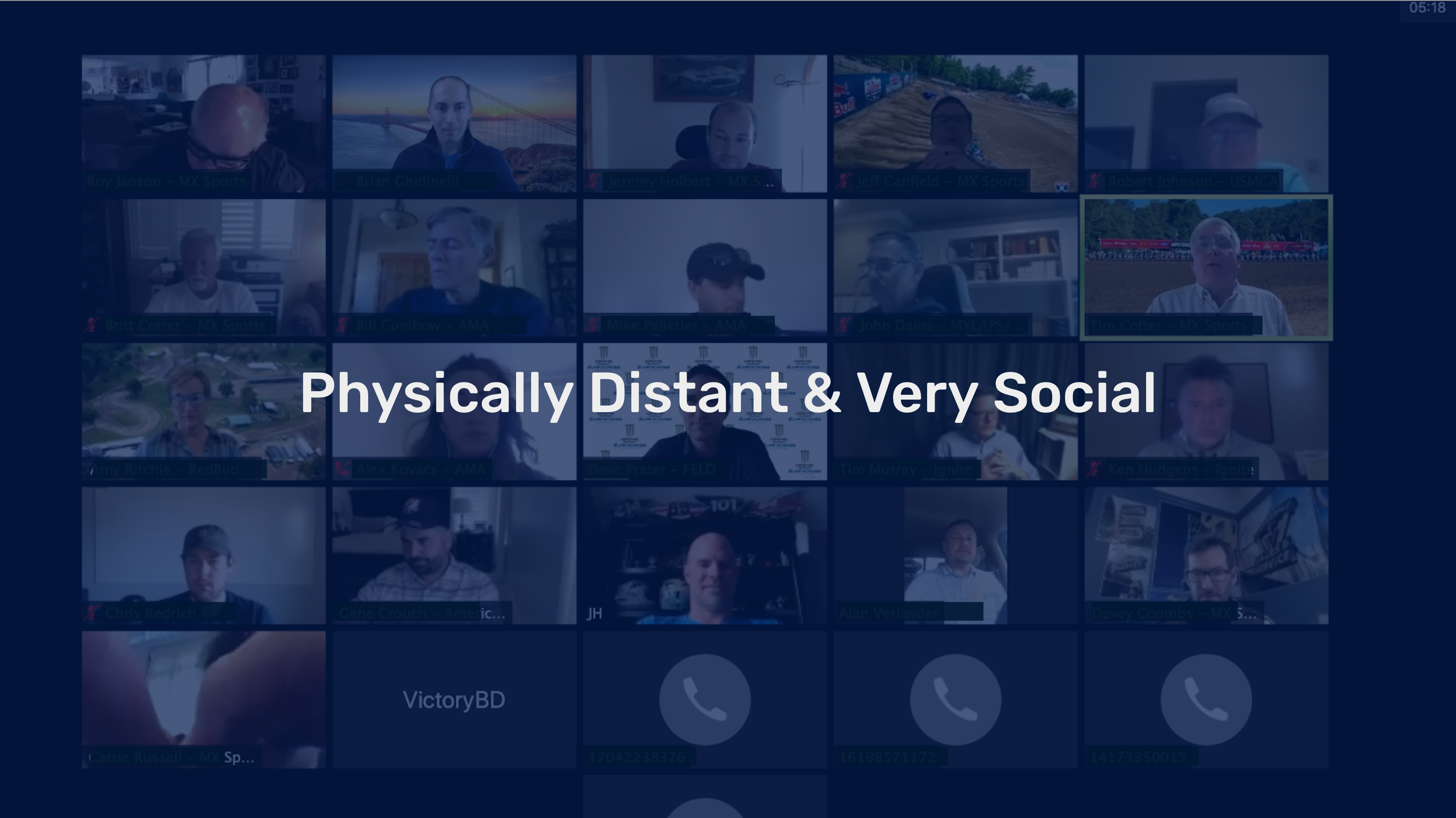 Zoom, the web-based video conferencing platform, has seen tremendous growth as businesses and individuals turn to it as a way to keep in touch. Facebook Live is another option. Consider these events where you could use Zoom or Facebook Live to replace live, in-person events while you are sheltering in place or when people are hesitant to return to physical gatherings:
Virtual Cars & Coffee
Start your weekends like normal having participants join for morning coffee. Using the Zoom smartphone app, let individuals walk around their cars and show off their babies. New parts? Freshly waxed? Cool garage layout? There are lots of show-and-tell opportunities when broadcasting from home. Here's what Porsche is doing to encourage sheltering in place.
Virtual Concours
A more formal version of the car show, you can invite participants to register, upload photos and bios of their car. One or more judges conduct a livestream where they review, rate, and then pick winners. Interview the winners on the livestream and optionally send out trophies or awards. Here's an example of what the Gilmore Car Museum did in southwest Michigan. The Isolation Island Concours is another fun example of what can be done with imagination and die-cast cars.
Virtual Museum Tours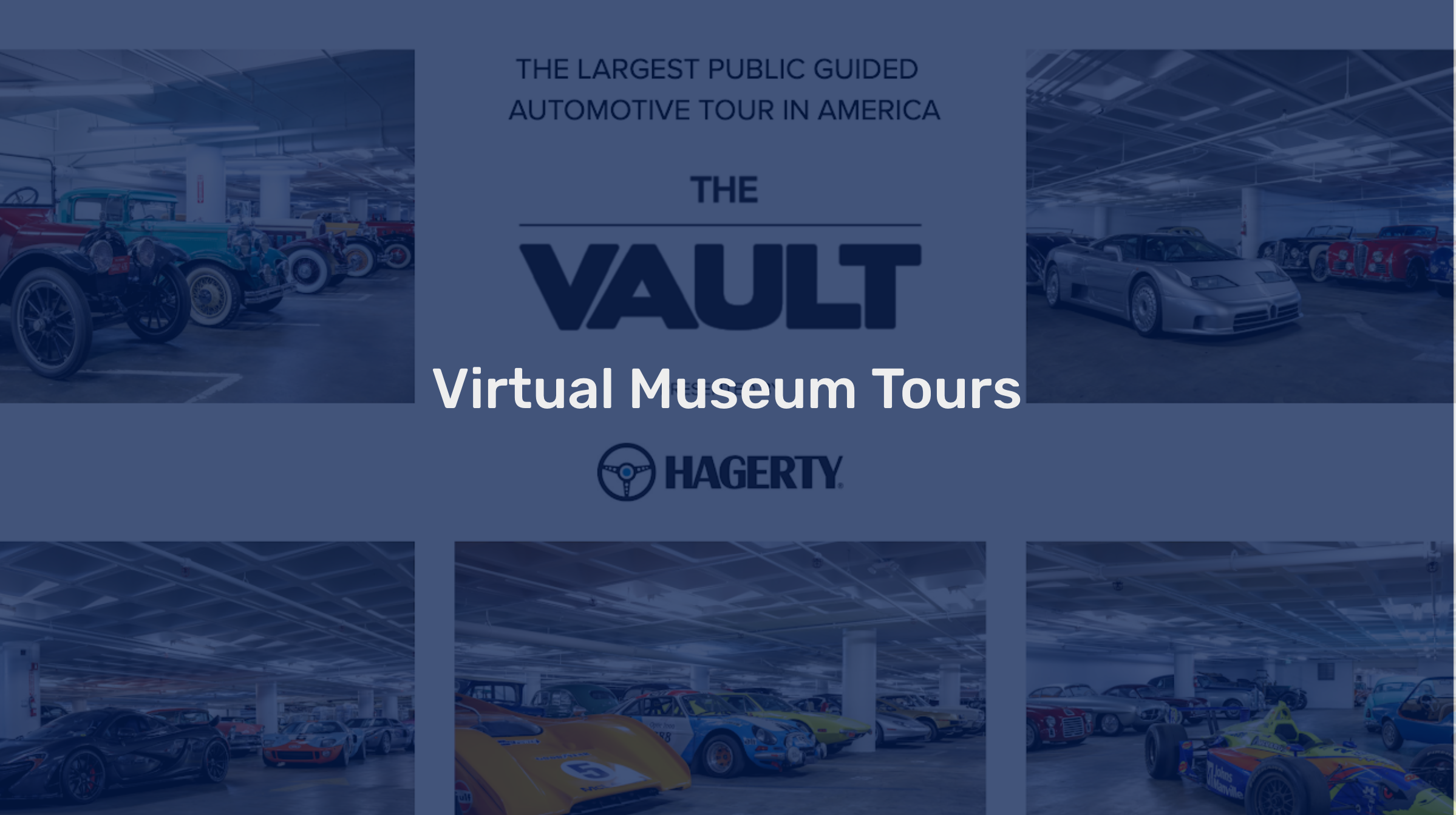 Take virtual tours of some of the great automotive museums of the world. Share your screen on Zoom to virtually explore them with your members and discuss, debate and drool over the exhibits. Here's a short list of museums that offer virtual tours:
Sim Racing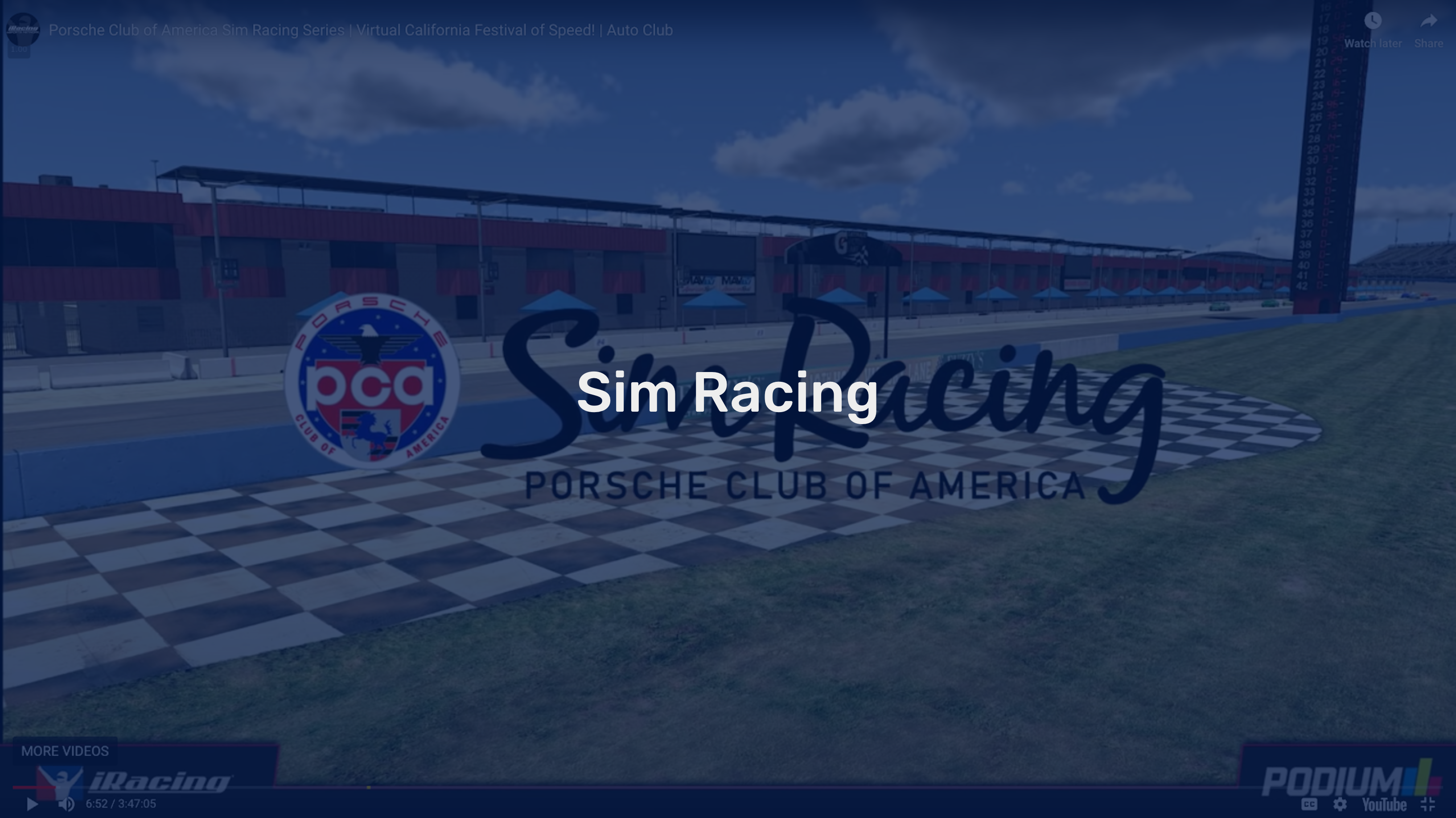 Consider hosting a regular racing event on iRacing. SCCA Washington D.C. Region has been running a regional series for several years and takes pre-registration on MotorsportReg.com to confirm the grid in advance. Many organizations are doing this including SCCA, NASA, Porsche Club of America, and others.
Demand has been so great for PCA that it has revised its league so that it can accommodate up to 240 drivers at each round of the championship. Each round has professional announcers and a YouTube recording for posterity that adds to the atmosphere and attracts more participants.
Bonus: you can drive supercars you may never have another chance to get your hands on like the Porsche 911 RSR!
(If you have ever considered going to the Nurburgring, this is also an ideal way to learn the track. We have a full guide available at NurburgringInsider.com.)
Ideas for When Restrictions End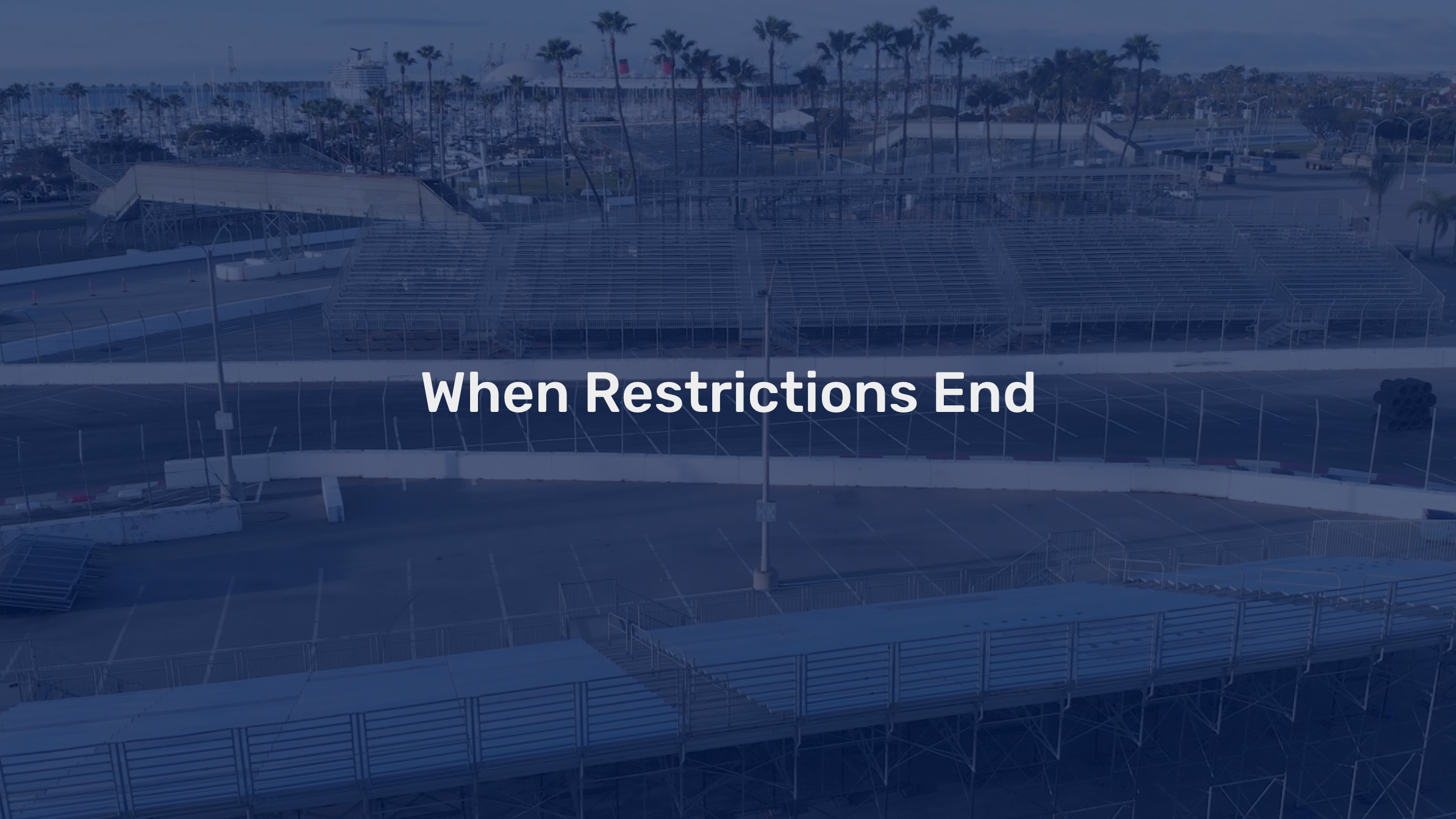 Even as formal restrictions are lifted, people are likely to be slow to rejoin events where people are in close contact due to ongoing health concerns. Events that provide more distance while still being able to participate and have fun will be highly valuable in those circumstances. Consider these options:
Use E-Waivers for Liability Release
A common choke point where people gather together is at on-site check-in to sign the insurance waiver. We have an electronic signature service called SpeedWaiver that replaces the paper waiver with a mobile-based flow the attendee completes on their phone. It is stored securely in the cloud with a photograph of the signer and an audit trail.
Our digital process is approved or pending approval by major insurance carriers including American Specialty, K&K, Lockton, ProSight, Safehold, Jones Birdsong, Stoneridge Specialty, and Heacock. If your insurance carrier is not listed here, contact us and we can provide our review packet for their legal team to sign off.
The platform is in the final stages of integration to MotorsportReg.com for public availability. We are offering a guest/spectator signing option for tracks and venues as well.
Virtualize the Morning Briefing
Make your attendees more comfortable by replacing the morning driver's meeting with a virtual briefing.
Audi Club Northwest and Bridge City Autosports have tested MotorsportReg surveys as a way to distribute important information and ask questions that confirm the participants have read and understand the material.
Or, go live by using Zoom and conduct a real-time briefing along with Q&A. If attendance is mandatory, you can use the Zoom meeting report to confirm attendance before letting people participate.
Photo Rally
When getting out behind the wheel is finally permitted in your area, try this photo-rally idea:
Set a course (5 to 50 miles) and write directions (where to turn, etc.)
Drive the course and take 20-25 photos along the way, note the GPS coordinates (or mileage) of each item for your judging
Create a printable doc of the photos to be shared with participants and have a spot for them to fill in the GPS coordinates or mileage
Unlike a normal rally with staggered starts, let your participants attempt this rally on their own time at any time over a specified period like a week
Set a deadline when all entries have to be returned
From all of the submissions, choose the most accurate/complete entry as the winner. Consider photographic quality and composure in your judging if you have multiple complete entries.
Here are a couple examples:
Scavenger Hunt
Have teams register in advance. On event day, distribute a list of clues that each team can look for in a certain timeframe. For example, in San Francisco, a clue might be "The curviest road in San Francisco" (Lombard Street) or "Where Al Capone and Machine Gun Kelly lived" (Alcatraz).
To win, the team must take a photo of their vehicle, themselves and the item, post it to their social media wall and tag your account. Each item can have a varying point value.
Ideas for items:
Interesting artwork
Funniest street sign name
Famous restaurants or landmarks
Signs that include your local area code or zip code
Different types of vehicles (planes, trains, boats, bikes, etc)
Anything hyper-local. Be creative… is there a horse-racing track near you? Add a location clue of "1 horsepower racetrack."
Have fun!
If you have sponsor or marketing partner obligations you have not been able to fulfill due to the coronavirus, consider promoting them as the title sponsor of the hunt or including their location or logo in the route as part of the exposure.
It may not be what you promised to provide, but they will appreciate you making an effort to provide them value while on lockdown and any social media posts will be added value.
To add some excitement and more winners, award prizes for decorated vehicles, teams in costumes, teams doing funny things or other fun and goofy categories.
Everyone loves to win, so consider prizes such as gift cards to local restaurants (bonus: support local businesses during these difficult times) or credit to your future in-person events. This is a very low/no-cost event that is fun and gives your social media amazing reach.
After the event (and during), publish the photos and "inside stories" from the event. This makes for fun and interesting reading. You'll get a lot of media mileage from this one… "Remember that time when…"
Be Safe and Have Fun
These are just a few of the ideas for helping you stay connected as we continue working through these unprecedented times. Now more than ever, people can find escape in cars. The wonder that is the internet is helping make that possible